We looked into Seedbox provider Whatbox and during our test, we considered the speed of the provider, its customer support, the benefits, apps, the packages available and much more. So, if you are considering taking out a plan with the provider you might want to continue reading our Whatbox review and test to find out whether it offers good value for money or whether you should continue looking.
However, before we venture into the main part of our review, we will first highlight the main pros and cons of packages.
Pros
A huge choice of apps;
Wide range of payment options;
Plenty of plans to choose from;
Up to 40Gbps burstable speed.
Cons
No live chat;
Limited upload traffic;
Plans are expensive for what you get.
The ease of use
Now, onto the test proper and our first section of our Whatbox review concentrates on ease of use.
The website is one of the most basic we have seen, you don't even have to scroll down the site, what you see is what you get. Personally, we would have liked to have seen a white background with black text for easier reading as opposed to black background.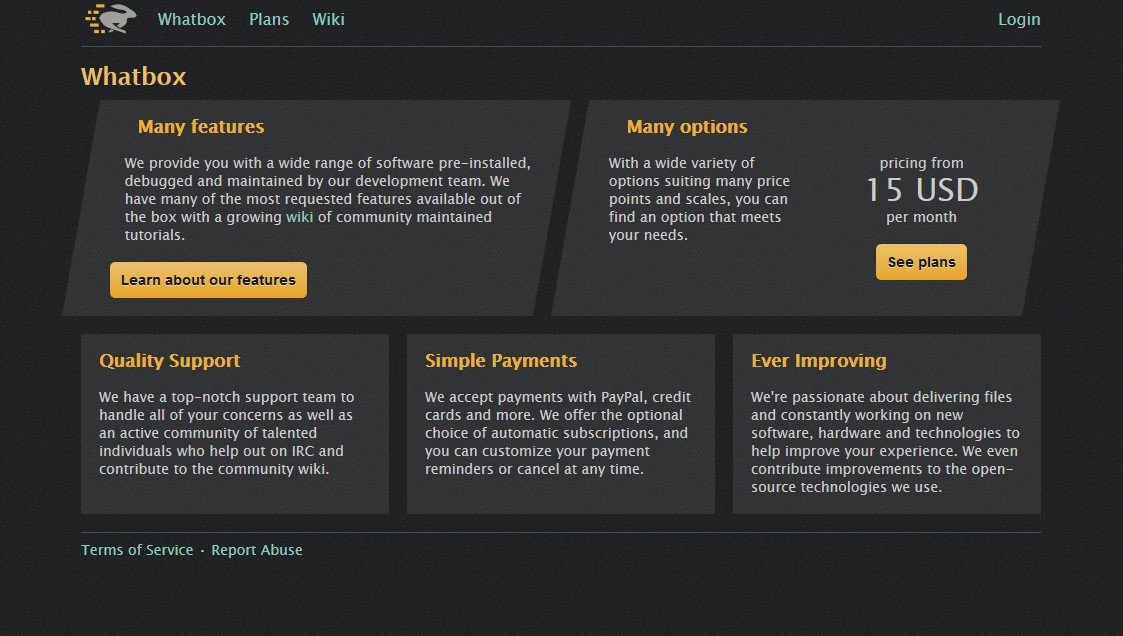 At the top of the website there are links to the plans, the Wiki and log in. Underneath this is a link to find out all about the features, with the provider stating that there is a wide range of pre-installed software and plenty of features out of the box.
The user interface is also simple with links to your account down the left-hand side. Again, its a black background and we would have prefered the cleaner look you get with a white background.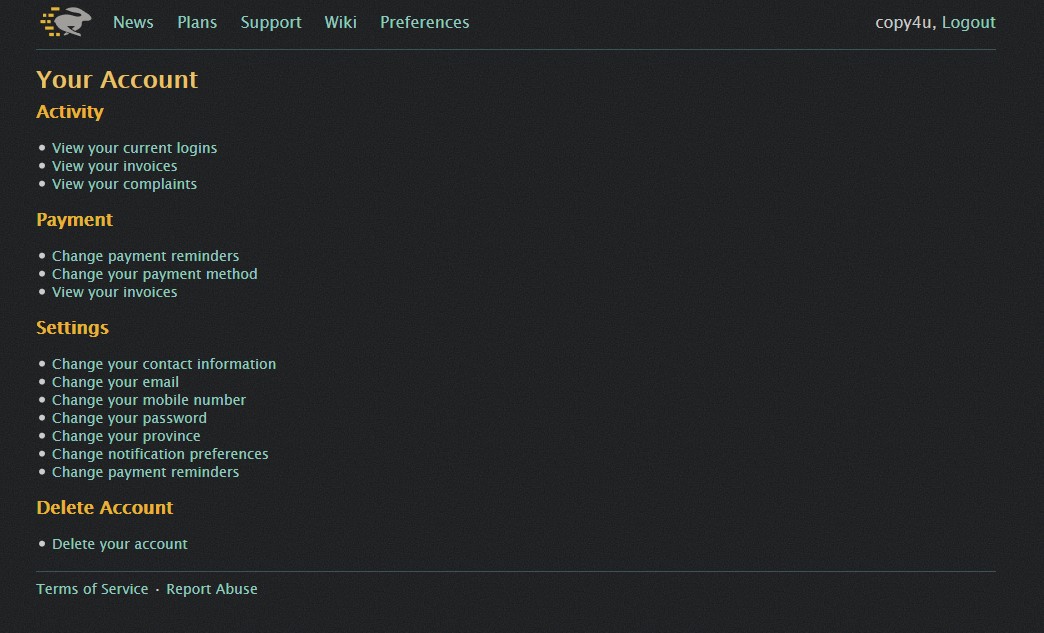 You can view invoices, along with setting up payment reminders, changing how you pay and changing settings, you can also delete your account from the interface. There are also links to support and the Wiki pages, which is the knowledge base.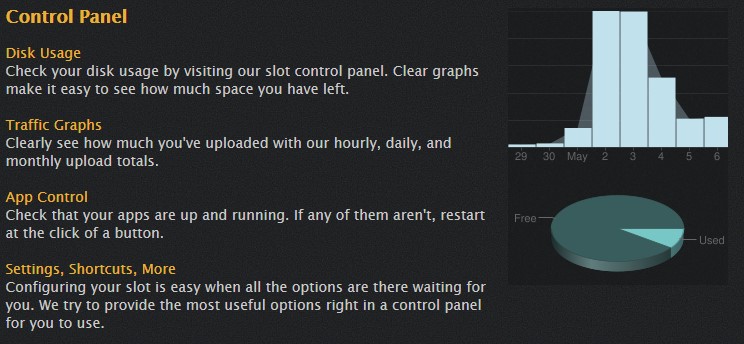 You also have access to the control panel so that can check the amount of storage you have used and what you have left, check apps and restart them easily and also check your uploads based on hourly, daily or monthly use.
How fast is the speed?
Now, let's move on with our Whatbox review and test by looking at the speed offered by the provider.
The speed is going to depend on the plan you have taken out.
For instance, with the entry-level plan, you only get 150Mbps burstable and sustainable speed. With the top of the range plan 40Gbps burstable speed is offered and 2Gbps sustainable.
Whichever plan you go for you do have to take into account that these are shared plans. So, you are going to be sharing the server with other users, therefore, sharing the speed.
On saying this, the speed is more than adequate for downloading and uploading torrent files.
The provider does offer a speed test of the servers through the link on the plan page.
Using this you can undertake a multi-thread speed test to give you an idea of the speed you could expect to receive from the servers. The test runs for 30 seconds and the provider warns it is bandwidth-intensive.
Level of customer support
The provider does not offer live chat. Therefore, if you do come across any problems do not expect to be able to reach someone fast.
The first option for help and advice is to send a ticket. This is easily done, simply click on the link "Support" at the top of the website. If you are logged in this takes you directly to the ticket system.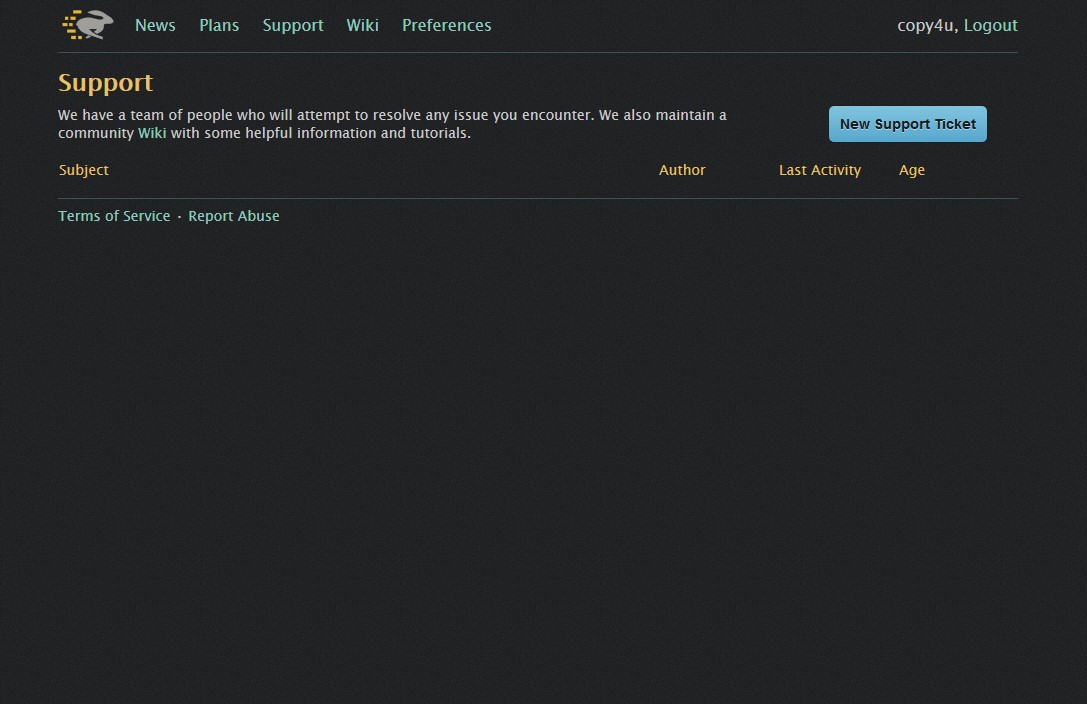 A word of warning though, ticket systems are notoriously slow. How long you might have to wait for a reply is going to depend on how busy the customer support is and your time zone.
There is also a link on the homepage to the Wiki page. This is the knowledge base and it offers a selection of self-help files in the form of tutorials and articles. However, these are not just written by the provider as it states users with active slots can create and edit articles.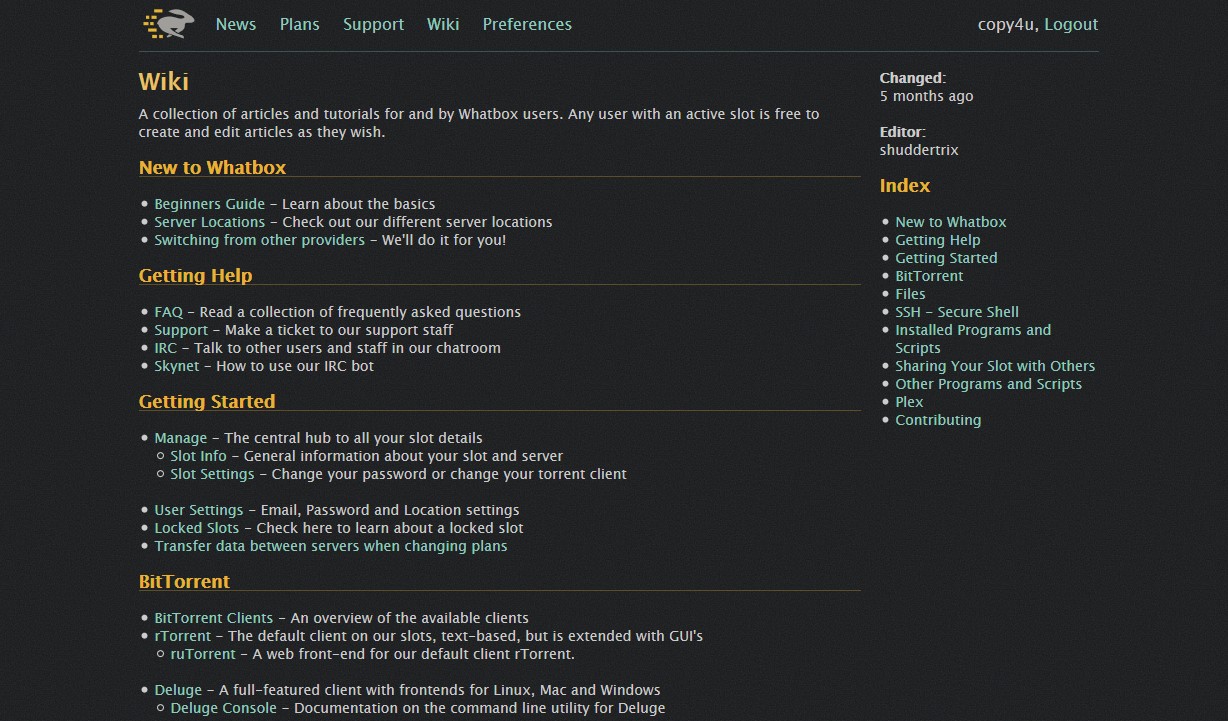 The articles and how-to guides are well written. The only addition we would have liked to have seen is a search feature to search the Wiki, as it is extensive.
Why choose it?
So, why should you choose this one over the many Seedbox providers out there? Well, this is something we have looked at in this section of our Whatbox review and test.
The provider states it offers a range of one-click apps (more about these later), with many of the most popular software pre-installed, to get you going from the very start.
You have full control over the payment for your Seedbox, as the provider does not bill automatically.
Users can set up reminders for payments and when the reminder arrives either pay it or not if you do not want to continue using the service.  Of course, you also have the option to choose an automatic subscription if you want.
What apps are offered?
Now let us look at what apps are included in plans.
The provider includes a range of pre-installed apps and these include:
Cron;
Irssi;
Xseed;
OpenVPN;
Rsync;
However, there are many apps you choose to add onto your package and they include the following:
Autodl-irssi;
Dropbox;
NZBGet;
SickChill;
Sonarr;
Radarr;
Flood;
Amazon Cloud Drive;
Rclone;
Emby;
Youtube-dl;
Many more.
Is Plex included?
Plex is included in the HDD plans and this allows users to organise and stream videos and music using the Seedbox. There are also other apps associated with Plex, to boost its usefulness.
Plexdrive is also included and available to install. This mounts the FUSE filesystem of your Google Drive, optimised for media playback.
Plex WebTools is a plugin for Plex allowing installation of more modules, such as management of subtitles.
Tautulli is a web application used to monitor and analyse Plex Media Server.
What bitTorrent client is supported?
Now onto the part of our Whatbox review that looks at what bitTorrent clients are supported.
There is a choice of three torrent clients, so there is something for all level of users. These are ruTorrent, Deluge and Transmission.

ruTorrent is a very popular torrent client and is the default client. The client is powerful but also lightweight and offers a graphical Web or text interface along with being available on Android.
Deluge is open source offering many user interfaces and is full of features. There is a WebUI and a text-based console available for using it.
Transmission offers a clean looking interface that is simple and easy to use via a web or terminal interface.
Available packages
There is a choice of three plans initially, these are Legacy, HDD plans and SSD plans.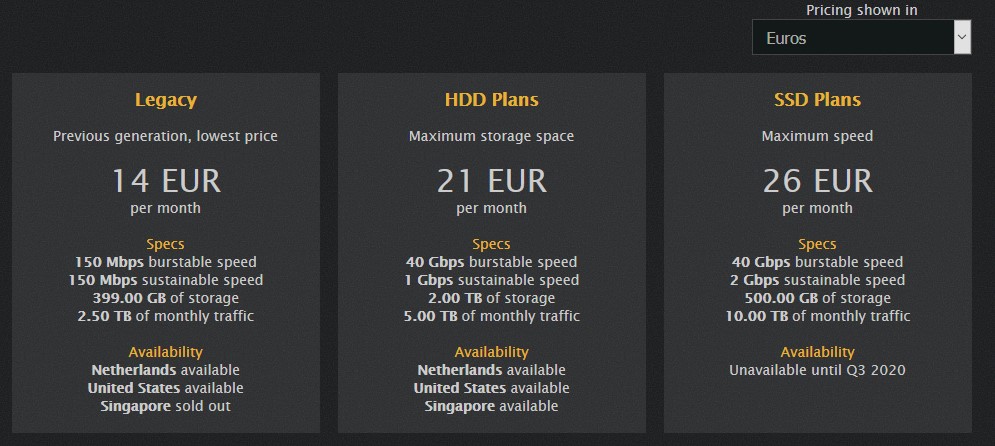 The entry-level plan is called Legacy and it costs €14 per month. For this, you get 150Mbps burstable speed and 150 Mbps sustainable speed along with 399GB of storage per month and 2.50TB of traffic each month.
There is a choice of servers, the Netherlands, United States and Singapore, however, at the time of our test, the latter was sold out.
HDD plans
If you want access to Plex, you are going to have to choose one of the four HDD plans.
All of the HDD plans offer 1Gbps sustainable speed and 40Gbps burstable speed.
The first costs €21 per month and for this, you get 2TB of storage and 5 TB upload traffic each month.
For €42 per month, you get 4TB storage and 10TB of upload traffic each month.
The next plan costs €63 and you get 6TB of storage along with 15TB of upload traffic each month.
Finally, the top-end plan costs €84 and gives you 8TB of storage and 20TB of upload traffic each month.
SDD plans
The provider also offers a range of SSD plans, however, during our test these were sold out.
They range from €26 per month for 500GB of storage, 10TB traffic, 40 Gbps burstable speed and 2 Gbps sustainable speed to €104 per month for 2TB, 40TB of traffic, 40Gbps burstable speed and 2Gbps sustainable speed.
All plans can be paid for using a variety of payment methods. These include PayPal, Visa, Alipay, Masterpass, Bitcoin and WeChat Pay.
Is there a money-back guarantee?
Whatbox offers a 7-day money-back guarantee on plans. Incedentely, this applies to both first purchase and renewal.
Refunds are given on a pro-rata basis. Therefore, the refund you get takes into account the amount of bandwidth that you have used during the seven days.
To make it easy for you to work out how much refund you would get if you applied the provider has posted a refund calculator on the website.
You can quickly work out how much refund you will be entitled to receiving using the sliders. However, bear in mind refunds are only given to the payment source you used when initially taking out the package.
In the terms and conditions, it does state that you cannot seek multiple refunds, therefore you cannot take out another plan and expect to get a refund.
It is easy to apply for a refund, simply open up a ticket telling the provider you would like your money-back and wait for a reply.
In summary
Now we are going to wrap up our Whatbox review and test with our summary.
To start with the plans are not the cheapest out there. We compared the entry-level plans of this provider and Seedit4.me.
The entry-level plan with Whatbox costs €14 per month and you get 150Mbps burstable speed and 399GB storage. With Seedit4.me, the entry-level plan is €14.99 per month and you get 1Gbps (1000Mbps) speed and 1500GB HDD storage. As you can see, the competitor offers much better value for money.
You only get Plex in the plans above entry-level. Therefore you will have to pay €21 per month or upwards, compared to €14.99 with competitor Seedit4.me. Again, Whatbox is not the best value for money.
On the plus side, it does offer access to a huge number of apps, with all of the most popular ones pre-installed and it offers a choice of three torrent clients.
Finally, if you are thinking about choosing Whatbox for your Seedbox you do get a 7-days money-back guarantee, but remember, you are charged for what you use.