Ultraseedbox is a popular choice of Seedbox provider offering a good range of packages. Entry-level packages are relatively cheap, but come with 20Gbps speed, while the higher-priced plans offer ultra-fast speed and SSD storage. We are going to look into all of the important aspects that you need in a good provider in our comprehensive Ultraseedbox review.
During our test, we took into account how easy the service is to use, the speed, level of customer support, the benefits offered, apps available, what you get for your money and much more.
For now, we will begin with the main pros and cons of Ultraseedbox.
Pros
Huge choice of plans
Live chat is available (when it is working)
Good knowledgebase
Up to 20Gbps speed
Unlimited downloads
Cons
Servers can be overbooked
Information is poor for accessing services
Metered uploads
Is it easy to use?
You should not have any issues in getting started as the dashboard provides all of the information you need to hand. The interface is clearly laid out and you can easily and quickly access pending invoices, view or open tickets, check your package details and more.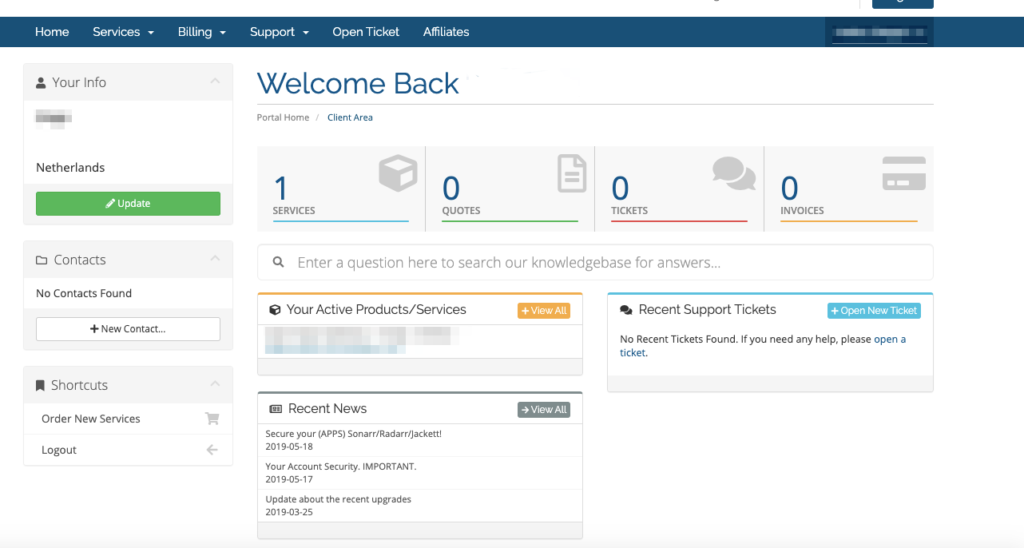 The control panel is also where you can install apps with one click and find out how much disk space you have used along with the amount of traffic used. Incidentely, this information can be found upon clicking on the View products tab.
How fast is it?
Ultraseedbox promises torrent file streaming without buffering on Plex enabled plans on any device thanks to the premium class network.
The provider offers 20Gbps speed on plans. However, while this is a superb speed, you do have to bear in mind that you will not get this actual speed as it is going to depend on how many others are sharing and using the plan.
Level of client support
Now onto the client support part of our Ultraseedbox review and test.
There is a button at the bottom of the webpage for live chat, which is nice to see. However, when we clicked on it, all it said was the website was unavailable, which wasn't much help as we were unable to test this part of the service.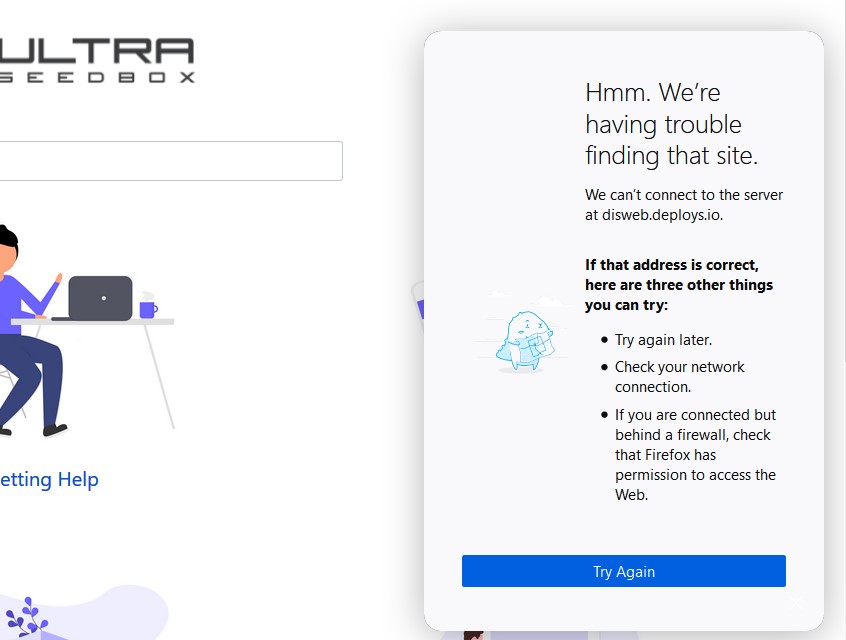 There is a knowledge base which can be found by clicking on the "Documentation" link at the top left of the main webpage. It was also nice to find a search option in the knowledgebase to search for a specific issue.
The knowledgebase is extensive with links to getting started guides, obtaining help, pre-sales information, overviews of apps and tutorials and guides. These links lead to numerous articles and guides, including, how to use ruTorrent, remote desktop, installing plugins, troubleshooting and many more.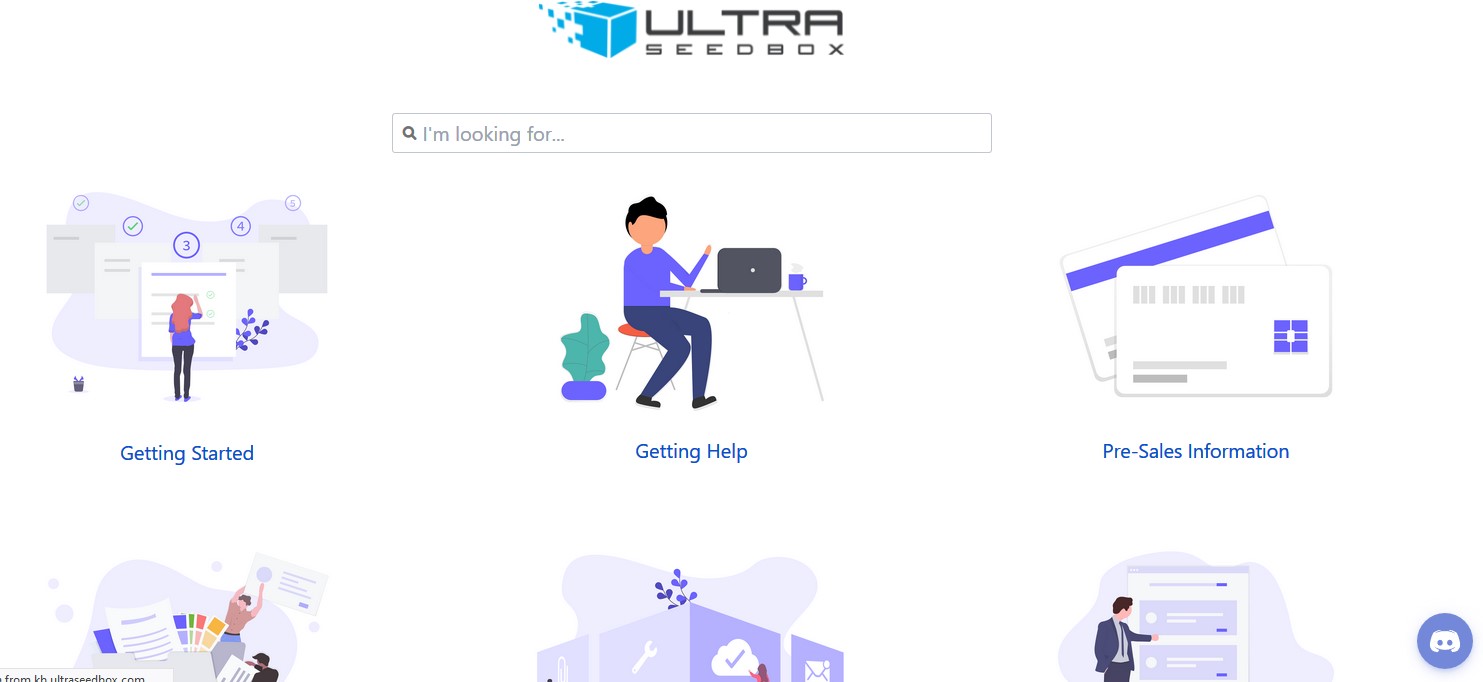 There is also a link at the top of the website to FAQ. Here you find answers to many frequently asked questions.
The last option for help is to issue a support ticket and wait for someone to get back to you. How long you will have to wait will depend on the time difference in your country and how busy the representatives are.
Benefits offered
Let's look into some of the main benefits offered by the provider in Seedboxes and they include:
Automation by way of apps;
Easy to use client interface;
Upgrade at any time through the ticket interface;
High-quality bandwidth for bufferless streaming;
Instant setup;
Over 30 apps to install
What apps are available?
As mentioned above Ultraseedbox offers a huge range of apps, more than 30, and they come with a one-click installation from your client dashboard.
Just a few of the many apps included in plans are:
CoachPotato;
Deluge;
LazyLibrarian;
Nextcloud;
NZBGet;
Resilio;
SickBeard;
Transmission;
Plus many more.
Is Plex included?
Plex is an important part of a Seedbox if you want to stream directly from the Seedbox without having to download the file to your device to stream.
However, not everyone wants to stream online and plans are cheaper without it. Luckily, the provider offers a huge range of plans, some with Plex support and others without. Plans that include Plex start at €15.95 per month.
BitTorrent client support
One of the main uses of any Seedbox is torrenting. Therefore, an important part of our Ultraseedbox review is bitTorrent client support.
Ultraseedbox has support for three torrent clients, ruTorrent, Deluge and Transmission. All of which can be installed through the client user interface.
Deluge is a user-friendly torrent client with an interface that is simple and easy to use. It is a powerful and an aggressive seeding client, Something that has made it extremely popular. However, it's one downside is not being able to handle large amounts of torrents.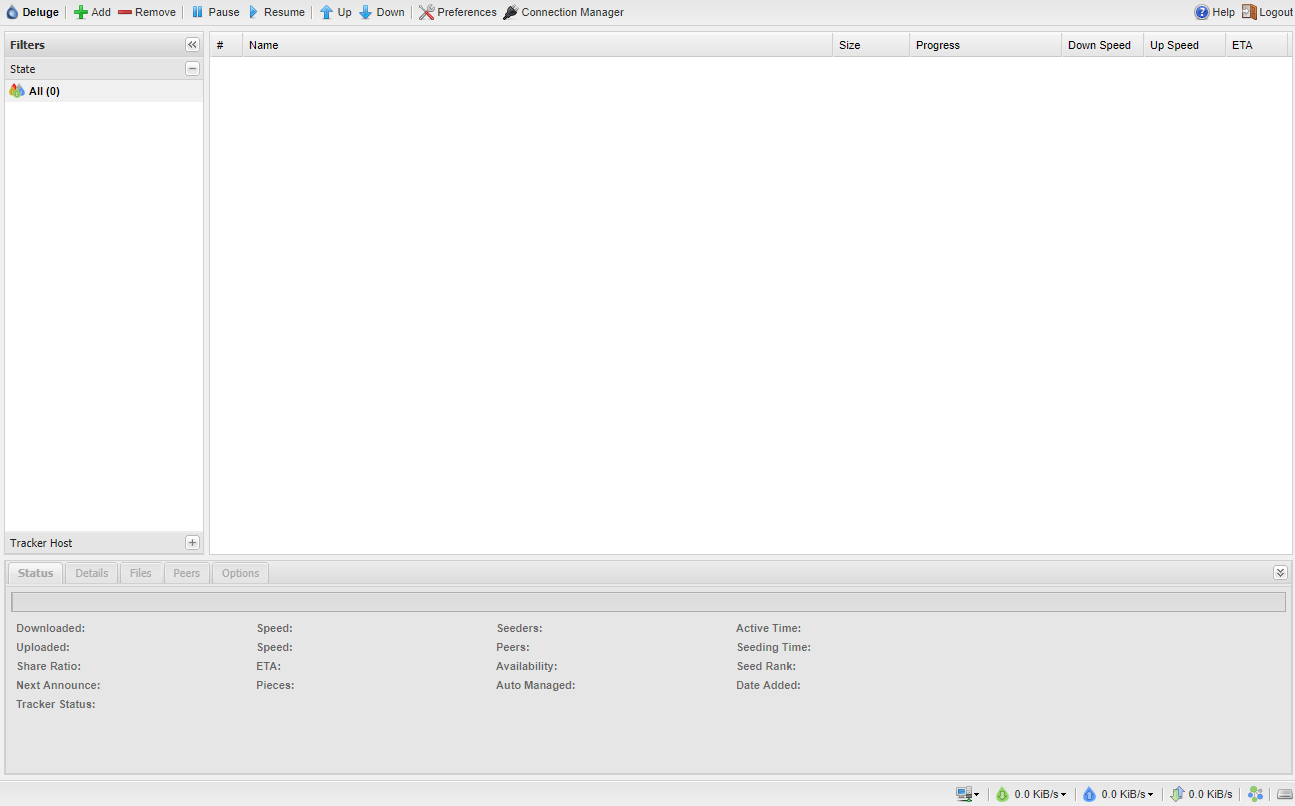 ruTorrent is another user-friendly client and one favoured by those who use uTorrent on desktop computers.
The client can deal with thousands of torrents, plus, it is easy to use thanks to its web-based user interface. It is a good choice offering good performance for seeding.

Transmission is also offered as a torrent client. However, it is not one of the most user-friendly.
The interface is minimal with few options, however, it is among the most stable of torrent clients. On the downside, the client is not the best for seeding. It does, however, handle a huge amount of torrents.
Choice of plans available
Now let us move on with our Ultraseedbox review and look at the range of plans offered and you are spoilt for choice with 15 options. This means there should be a plan suitable for all needs.
The prices we have listed are pay monthly plans, while prices are also shown for yearly plans. Of course, the prices work out cheaper if you commit to paying yearly upfront.
For instance, you could go for the entry-level S-Wind package and make the following savings:
€5.65 equivalent per month with the three-month plan;
€5.36 equivalent per month for the six-month plan;
€4.76 equivalent per month for the 12-month plan.
Savings apply for all other plans of course when paying upfront for the plan, we just chose this one as an example.
Entry-level packages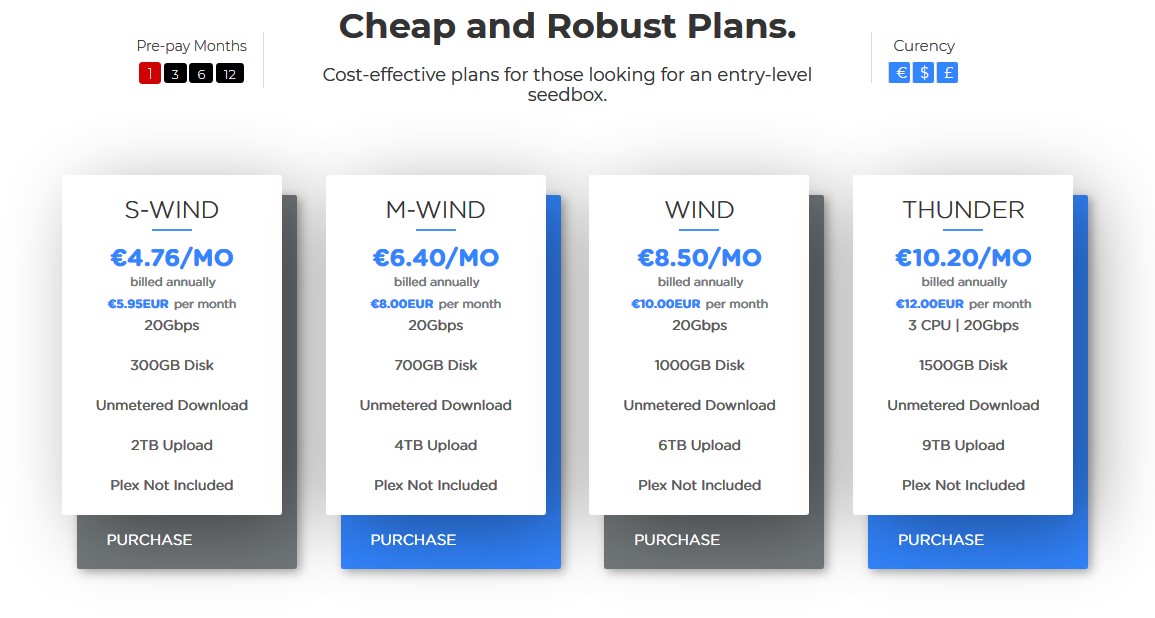 If you want a cost-effective plan, you might want to take a look at the entry-level packages and there are four plans to choose from. However, none of them offers the Plex server.
The cheapest is the S-Wind plan and this is billed at €5.95 per month. For this, you get 20Gbps speed, 300GB of storage, unmetered download and 2TB of upload.
The M-Wind plan costs €8.00 per month with 20Gbps, 700GB of storage, 4TB upload and unmetered download.
The next plan up is the Wind plan, it is €10 per month and offers 20Gbps speed, 1000GB of storage, 6TB upload speed and unmetered download.
Finally, there is the Thunder plan for €12 per month with 3CPU/30Gbps, 1500GB of storage, 9TB of upload and unmetered download.
Plex plans
There is a choice of 6 plans all optimised to use with Plex.
The Plex plans start with the Jaguar plan for €15.95 per month and this comes with 3-4 CPU/20Gbps, 2000GB of storage, 12TB upload speed and unmetered download.
Other plans in-between range from €23.95 per month, offering 4-5 CPU/20Gbps with 300GB storage and 18TB upload, to an eye watering €84.95 per month with 7-8 CPU/20Gbps speed with 12TB of dedicated disk and 50TB of upload.
As you can see there should be a plan to meet the needs of everyone, whether you are an avid torrent user and want to download numerous torrents, store them and stream them using Plex or a beginner to torrenting.
Pro NVMe Streaming plans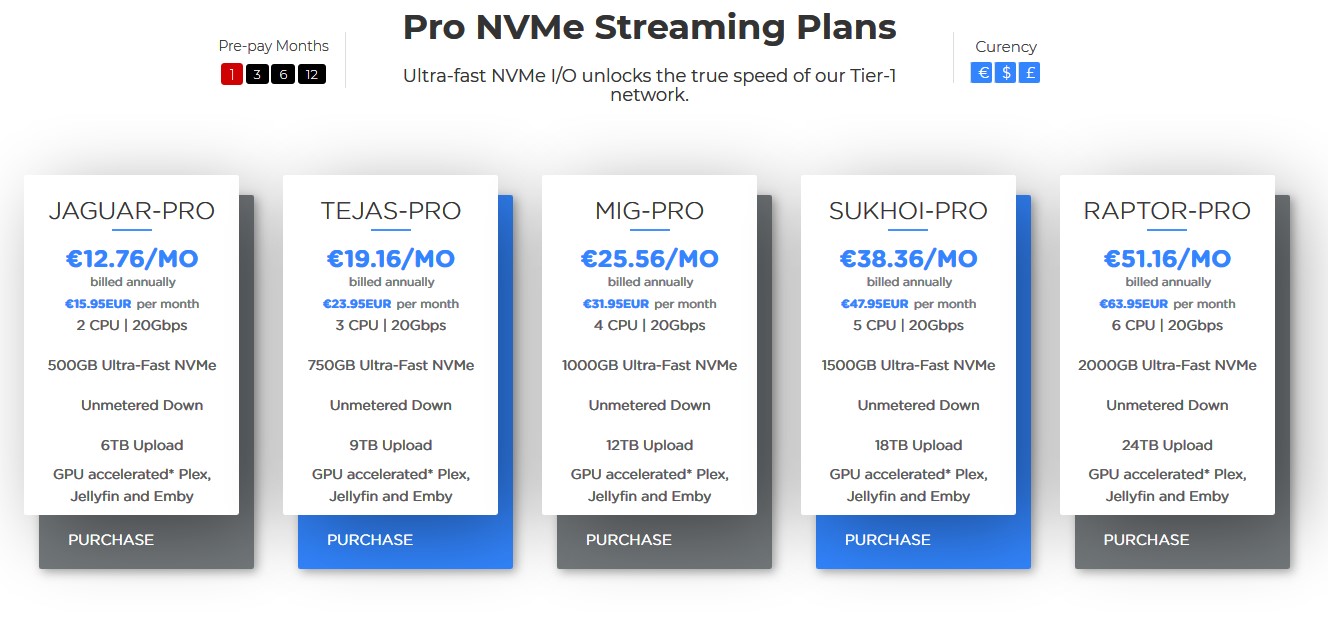 There are five plans hosted on the Tier-1 network.
They start with the Jaguar-Pro plan at €15.95 per month. This offers 2 CPU/20Gbps speed, 500GB of fast-NVMe, 6TB upload, unmetered download and accelerated Plex, Emby and Jellyfin.
The Tejas-pro plan costs €23.95 per month for 3 CPU/20Gbps speed, 750GB fast NVMe, 9TB upload, unmetered download and accelerated Plex, Emby and Jellyfin.
Other plans cost €31.95 for 1000GB and 12TB upload, €47.95 for 1500GB and 18TB upload and finally €63.95 for 2000GB and 24TB upload.
Is there a money-back guarantee?
This part of our Ultraseedbox review focuses on what type of guarantee, if any, is available.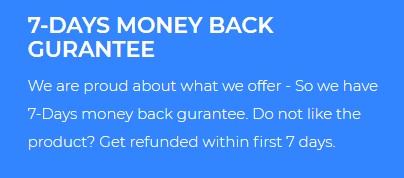 Ultraseedbox offers a 7-day money-back guarantee on plans. Essentially, this provides you with a 7-day trial. As you might expect there are some terms and conditions attached to the guarantee.
It is important to bear in mind that refunds are offered on a pro-rata basis. This means the money refunded will take into account how much traffic/time you have used on the Seedbox during the 7-days.
The provider uses 10TB of traffic as a base when calculating refunds. However, in the case of SSD plans refunds are calculated based on 15% of the allotted upload bandwidth or traffic used.
In the terms and conditions, it does state that the refund is only offered to new customers. This stops people from getting a refund then taking out a plan again and trying to obtain another refund.
Be aware that if you pay using cryptocurrency you cannot claim a refund.
To claim your money back within the 7 days you need to let customer support know through the ticket system.
Cancellation of plans
You can cancel the plan at any time after the seven days, but of course, you cannot claim your money back.
To stop the subscription you must put in your request through the client interface. You can choose to cancel immediately or at the end of the current billing period.
Of course, if paying for a plan by direct debit or through PayPal you should also cancel the recurring payments.
In summary
Now let's summarise our Ultraseedbox review and test.
The provider offers a huge range of packages, starting from just €5.95 per month when paying monthly, this can be as cheap as €4.76 if you commit to a yearly plan and pay upfront. However, you do not get access to the Plex server.
If you want a plan for streaming directly from the Seedbox using Plex, the entry-level is the Jaguar plan for €15.95, which offers 2000GB of storage.
Packages offer a decent amount of speed at 20Gbps. However, do bear in mind that it is shared. Therefore, the speed is going to be determined by how others are using the plan.
All plans offer a wide range of easy to install apps, including a choice of three torrent clients. Finally, if you are still unsure if this is the right Seedbox for you, you can try it thanks to the 7-day money-back guarantee.