We have undertaken a comprehensive look at one of the most popular Seedbox providers on the market. During our Seedit4.me review and test, we looked at how easy the service is to use, the speed, the level of customer support, benefits, the apps included, choice of plans and much more.
The provider claims it offers a fast, secure and private service and always puts customers first. It names its plans after superheroes and seems to have a great deal to offer. So, let's begin this test of the service by highlighting the pros and cons.
Pros
Plans include unmetered traffic;
A huge range of apps – up to 40;
Live chat and excellent customer support;
Good storage choices.
Cons
How easy is it to use?
The website is very easy to navigate and is colourful but pleasing on the eye when reading.
There are links at the top of the site to register, login and access FAQ, then scroll down a little and you can check out some of the main benefits of choosing the provider.
Next, the plan choices are listed, along with the choices of payments and a contact button.
Finally, at the bottom of the page there are links providing information about such as the privacy and refund policy. There is a link to find information about the apps available and an about us section.
The user interface is also easy to navigate and use. It provides access to everything you need to use the service including information about the storage used. You can access this by clicking on the "Boxes" link then on the "Access" button.

You can also get information about billing, head over to support and check out the FAQ page from the client interface.
How fast is it?
One of the most important aspects of our Seedit4.me review is what speed is offered.
All packages have a standard 1Gbps speed. While this is fast, you do need to take into account that you do have to share the server with other users.
This means the actual speed you get is going to depend on how many other people are sharing the server and what they are downloading.
Customer support
Next up in our Seedit4.me review and test is the level of customer support available.
The provider stands out in this areas as it offers a great level of customer support with numerous options available for help. This includes everything from live chat, FAQs, knowledgebase, ticket system, and email and user forum.
Live chat can be initiated by clicking on the link in the bottom right-hand corner of the website.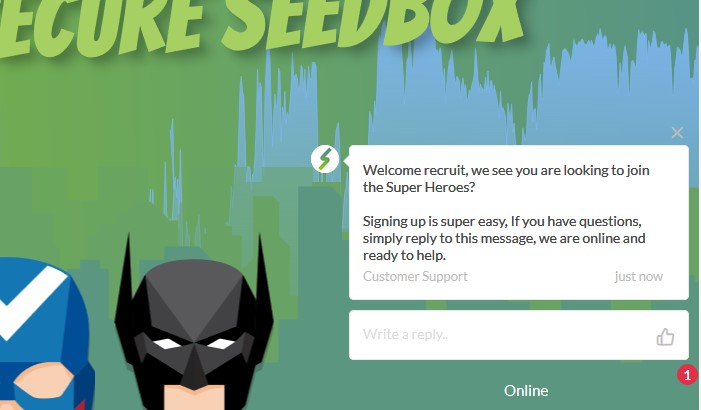 We tested it out and it took just seconds from asking for help to receiving it. This is superb considering that many of the competitors we have reviewed fail to offer live chat and the ticket system takes forever.
Seedit4.me also offers a ticket system to receive help. Just click on the "Create support ticket" link, fill in the details of your enquiry and wait for a reply.
There is an extensive FAQ/knowledgebase offering help and advice on a range of issues. Here you can find articles and guides on topics such as configuring apps, billing, FTP, SSH, Seedbox basics and technical matters. Plus, each of the categories offers a huge choice of guides and how-to articles.
Finally, the last port of call to get help is by way of other users in the forum. Again, there are different sections to choose from, including guides, general, user support, tracker invites, configurations, user guides and suggestions.
Benefits of the provider
Now, lets move on with our Seedit4.me review and the benefits offered by the provider.
Setup is instant to get you up and running within minutes of signing up;
The provider has a no-log policy and never shares your information;
Only high-grade carriers are used to offer the maximum bandwidth;
All plans come with unmetered traffic;
The provider guarantees 95% uptime;
A wide range of apps are supported, even on the entry-level plan;
Excellent level of customer service;
Public trackers are not allowed for your security.
Apps included in plans
All plans come with a range of one-click install apps. However, the number of apps you can install will depend on the package chosen. There are over 40 apps in total, while even the entry-level plan supports up to 10 apps.
Once-click install with Seedit4.me
Apps included that can be installed via a single click using the client dashboard include:
Bazarr;
CoachPotato;
Deluge;
Filebrowser;
Flood;
Headphones;
Lidarr;
Medusa;
Nextcloud;
OpenVPN;
Rapidleech;
Resilio Sync;
Sonarr;
Transmission;
Many more.
Is Plex server supported?
You can install the Plex server on any plan above the entry-level. This means to enjoy trouble-free streaming directly from the Seedbox without first having to download the file to your device, you will need to choose a plan €14.99 or above.
You can install Plex easily and once you have claimed a token your Plex account and Seedbox account will be linked.
What bitTorrent client is supported?
There are three choices of the torrent client. All of them can be installed through the client interface and be used to download and upload torrents. The choices are ruTorrent, Deluge and Transmission.
The most popular choice is ruTorrent. This might be due to the fact that the web interface is very similar to desktop torrent clients such as uTorrent.
If you already torrent on your desktop computer, urTorrent is easy to use. You can just drag and drop the torrent file from your computer into ruTorrent or you can click in the top left-hand corner of the app and using the box that pops up, find the torrent on your computer and upload it through the interface.
Deluge is also user friendly and it is relatively easy to use. It is popular among the more seasoned torrentors for being an aggressive seeding client with plenty of power.
Transmission is not as user-friendly as the two clients above are. However, it is extremely stable.
Choice of plans
Now onto the choice of plans, so let us move on with this part of our Seedit4.me review and test by looking at what plans are offered.
The provider has kept things light-hearted when naming the plans as they are all along the superhero theme.
All packages have the following:
1Gbps speed;
Unmetered bandwidth;
Free VPN included by way of OpenVPN;
Root access;
A range of apps available for installation;
Shared IP.
The Super Hero plan
The entry-level plan has the name of Sidekick and it costs €9.99 per month. The package offers 1500GB of HDD storage and 2GB of Ram. However, being the entry-level plan, it does not offer access to the full range of apps but it does support up to 10.
The Hero plan
The next plan up is the Hero plan and this costs €14.99 per month. For this, you get 2000GB of HDD storage and 3GB of Ram, plus a choice of up to 15 apps.
The Super Hero plan
Go up a step and it is the Super Hero plan with a price of €19.99. You get 3000GB HDD storage and 4GB of RAM along with access to unlimited apps, up to 40.
The Super Seedbox plan
The top plan is the Super Seedbox plan and costs €34.99. It offers 5000GB of HDD storage along with 5GB of Ram and access to unlimited apps. This means you use up to 40 apps.
Is there a money-back guarantee?
This part of our Seedit4.me review and test focuses on whether the provider offers a money-back guarantee, along with any clauses in the terms and conditions.
The provider offers a 7-day money-back guarantee and states you can only ask for a refund once every 6 months. Therefore, it does look as though it is possible to take out a package more than once, providing you wait for 6-months in-between signing up. Not that we encourage this, you should really only consider the money-back guarantee as a trial of the site to find out if it is the one for you.
Terms and conditions
There are some terms and conditions to the refund policy. For instance, it is given pro-rated. In the Terms and Conditions, it states that the refund is minus the first week of service. Therefore, if you use between 100GB and 500GB the refund will be minus €1.
If over 500GB and up to 1TB is used the refund will be minus €2 and if more than 1TB is used there is no refund given.
Also, you will not be entitled to a refund if you have paid by cryptocurrency.
To claim a refund you have to use the ticketing system. Just leave your request for a refund and wait for support to get back to you.
While ticket systems are generally notoriously slow, in the case of Seedit4.me you should not be left waiting long.
Cancelling your Seedbox after the 7-days
You may cancel your Seedbox at any time you want after the 7 days and the provider makes this easy to do.
To cancel the plan you simply use the "Cancel" button on your client interface. At the end of the billing period, the Seedbox is closed, so make sure you have removed any files you need.
In summary
Now we will finish our Seedit4.me review by summarising what we have said so far during our test of the provider.
The entry-level starting price of €14.99 with 2000GB of HDD storage is good when compared to some of the competitors out there.
The entry-level package with Cloudboxes.io, for instance, is €14.00 for 1TB (1000GB) of HDD storage. While with Rapidseedbox, the entry-level plan is €11.00 for 512GB of storage.
However, the speed with Seedit4.me and Rapidseedbox is 1Gbps while Cloudboxes.io offers 20Gbps. Of course, all are shared with other users so the advertised speed is not necessarily what you get.
The provider supports up to 40 one-click to install apps, 10 on the entry-level package and no Plex. Plex is included in all other plans going upwards. In addition, there are three choices of torrent client, ruTorrent, Deluge and Transmission.
The customer support is one of the best we have reviewed as it offers live chat and it is fast. Plus, it offers a huge range of self-help files by way of guides and how-to's, along with an active user forum.
Finally, the provider offers a 7-day money-back guarantee. However, the refund is based on what you have used. It is also easy to cancel the plan directly from the client interface.