Seedbox.eu is one of the oldest Seedbox hosting providers out there and it offers a huge range of plans.  The provider claims to offer unmatched speeds thanks to servers not being overloaded, easy to use control panels and instant setup. We have looked into all of the most important aspects of packages to find out if it lives up to the promise. So, here is our Seedhost.eu review 2020.
The company was set up in the Netherlands in 2008 with the intent to offer high-quality Seedboxes at affordable prices while offering powerful features. Hardware is located in one of the best datacentres available in Europe, and the company claims to guarantee amazing performance.
Before going into our detailed look at what the provider offers we are start this 2020 review of Seedhost.eu by pointing out the main pros and cons.
Pros
Choice of 1Gbps to 10Gbps packages
Free VPN included in plans
Low entry level prices
Large choice of shared plans
Cons
Metered uploads
Poor customer support
How easy is Seedhost eu to use?
The first part of our Seedhost.eu review focuses on how easy the service is to use.
The provider offers a user dashboard that is easy and pleasant to use, with all the information you need clearly listed.
You can check the amount of traffic you have used and how much is left, along with HDD usage and the amount left.
Also, it clearly lists the status of the service, including information about rTorrent, the FTP and web server and more. Of course you can also find information about the details of your chosen Seedbox, including a link to your ruTorrent interface.
The FTP details are also found in the client interface, along with options to restart the webserver, download VPN files and get direct HTTP access.
The speed
The provider offers packages with 1Gbps and 10Gbps speed. However, this is not going to be a guaranteed speed.
This is because you have to take into account the server is shared among other users, as we found out during the test.
Therefore, the true speed is going to depend on how many users are sharing the server and how they are using it.
Level of client support
We could not conduct our Seedhost.eu review without checking out the level of client support offered.
We were disappointed to find that a live chat option is not available. This is a shame, as it is the quickest way to get that all-important help.
How to get customer support is not made very clear, as there isn't a link at the top of the webpage. However, there is a link, but you do have to scroll all the way down to the bottom of the main webpage and you can find the links to support under the heading "Help and Support".

We would have liked to have seen a link at the top of the website to the knowledgebase as we almost missed it.
Once we did find it we were pleased to find the knowledge base does have quite an extensive list of self-help topics. These include answers to frequently asked questions and a range of articles, including a quick start guide, how to set up Plex and OpenVPN.
Addiitonally, there are more than 100 how-to guides split up in Seedbox and Dedicated server categories. These again are split up into several sub-categories, including ruTorrent, Deluge, FTP, HTTP and others.
The main type of help offered is submitting a ticket on the website. Of course, don't expect to get an immediate answer to your ticket as this type of system is notoriously slow.
There is also a link at the top of the website for contacting a member of the team via email if you need help with such as sales and pricing or invoice and payments.
Benefits offered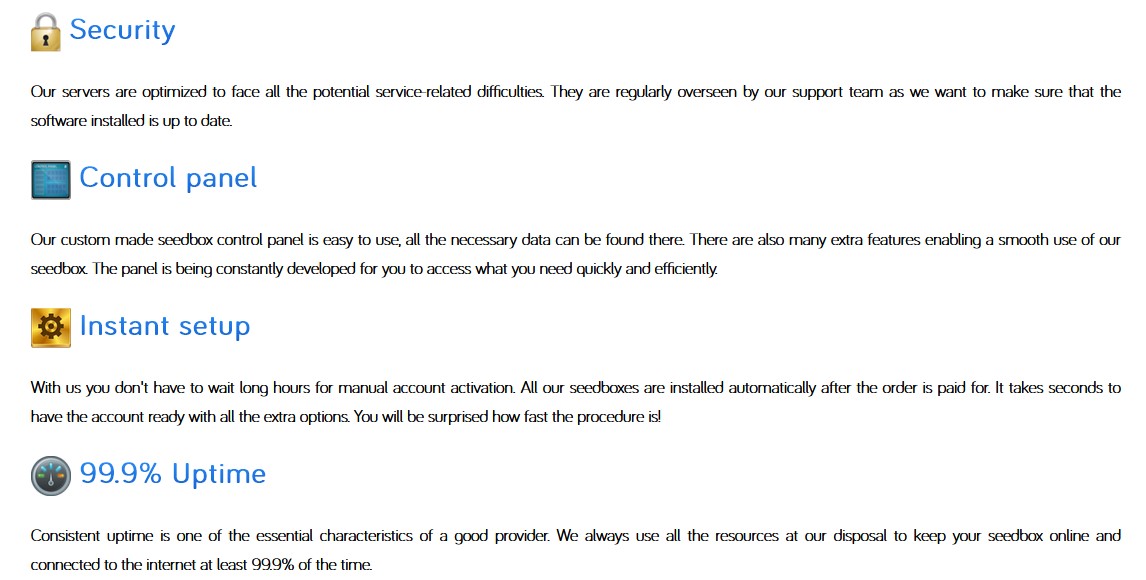 In this part of our Seedhost.eu review and test we focused on the benefits offered by Seedbox.eu and these include:
A free VPN by way of OpenVPN for security;
Multiple clients;
Public trackers are allowed;
Instant setup of plans;
SSH access;
Access to remote desktop;
Full root access;
99.9% uptime;
Free operating system reboots and reinstalls;
Premium network;
Month-by-month contracts.
Available apps
The next part of our Seedhost.eu review concentrates on the apps offered with packages. The provider offers 34 apps, all of which are installable through the user interface, with it taking just one-click to install.
Apps include:
Plex (on select plans);
Deluge;
Rapidleech;
Transmission;
Resilio;
Maketorrent;
Coachpotato;
NZBGet;
Headphones;
Many more.
Is Plex included?
Seedbox.eu offers a range of plans, with something suitable for everyone. Therefore, depending on the plan you take out will depend on whether Plex server is included.
Plex is available on all of the 1Gbps shared packages and 10Gbps SSD packages, but is only available on some of the 10Gbps packages.
BitTorrent client support
In this section of our Seedhost.eu review we look into what bitTorrent client is supported.
ruTorrent is available with packages and you can find the link to it on your user dashboard under "Seedbox details".
From the link, you can log in to the torrent client and use it or restart it.
Once logged in you will find the interface is similar to that of the popular desktop client uTorrent, a popular torrent client. Therefore, you should have no issues using it.
Adding a torrent is as easy as clicking on the menu icon in the top left-hand side of the interface.
You can choose the torrent directory along with torrent file by clicking on "Choose file" and finding the file on your computer or by filling in the URL of the torrent and adding it.
You can also add a torrent easily by clicking on the "Create" icon and choosing the source.
Choice of plans
There is a huge range of shared plans available along with dedicated plans, but here we are only going to concentrate on shared plans.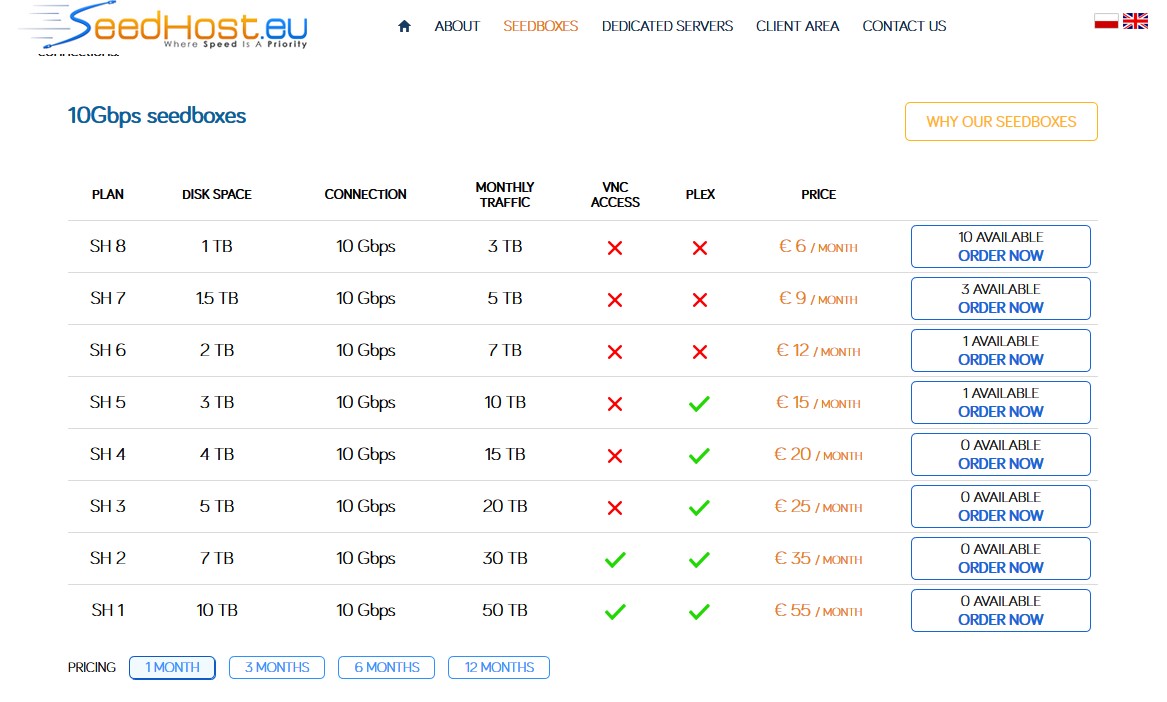 We have only concentrated on the monthly priced packages below. However, the provider offers discounts if you choose to pay upfront and commit to a long-term package. The discounts are as follows:
5% savings with a 3-monthly plan;
10% savings with a 6-monthly plan;
15% savings with a 12-month plan.
10Gbps Seedbox packages
There is a choice of eight different packages offering 10Gbps speed.
The entry-level SH 8 package costs €6 per month and offers 1TB of storage space and 3TB of monthly traffic. Plex server is not included.
You can go for the SH 7 plan at €9 per month giving you 15TB of storage and 5TB of monthly traffic but no Plex server.
There is the SH 6 is €6 per month and offers 2TB of storage along with 7TB of monthly traffic and no Plex server.
The SH 5 costs €15 per month for 3TB of storage and 10TB of monthly traffic and includes Plex.
There is the SH 4 for €20 per month and comes with 4TB of storage and 15TB of monthly traffic along with Plex.
The SH 3 plan costs €25 per month offers 5TB of storage and 20TB of monthly traffic with Plex.
The SH 2 plan is €35 per month, includes 7TB of storage and 30TB of monthly traffic, and includes Plex server.
Finally, the SH 1 plan costs €55 per month and has 10TB of storage and 50TB of monthly traffic with Plex.
1Gbps Seedbox packages
The 1Gbps Seedboxes are perfect for anyone who wants a Seedbox with plenty of HDD space but does not need a lot of monthly traffic. There are three different plans available.
They start with the SDATA package for €15 per month. The plan comes with 3900GB of storage, 1Gbps speed, 9TB of traffic each month and Plex server.
The next is the SDATA L package for €30 per month. This includes 7900GB storage, 1 Gbps speed, 16TB of monthly traffic and Plex server.
The top plan is the SDATA XL package at €45 per month. For this you get, 11800GB of storage, 1Gbps speed, 27TB of monthly traffic and Plex server.
10Gbps SSD packages
There are four choices of packages offering SSD storage and 10Gbps.
These start from €25 per month for 600GB of storage and 20TB of monthly traffic and go up to €65 per month for 1600 GB of storage and 55TB of monthly traffic, all include Plex server.
Payment options
Seedboxhost.eu takes various types of payments for plans and they are:
Visa;
Mastercard;
PayPal;
Discover;
Payza;
bitCoin.
Seedhost eu Money-back guarantee
Now onto the part of our Seedhost.eu review and test where we checked the money-back guarantee offered by the provider.
There is a guarantee in place and this is a 7-day money-back guarantee with all shared plans. It states that any of the Seedboxes can be ordered and tested, as you can cancel it without 7-days and get a refund.

Of course, there are some terms and conditions linked to the money-back guarantee and there is a link on the website for you to check them out before committing.
In the terms and conditions, it states that both shared and dedicated Seedboxes are protected by the 7-day money-back guarantee.
However, refunds of money are given on a pro-rate basis taking into account the amount you have used. This means the company bills you for the traffic you have used or the number of days of use.
You will not be entitled to a refund if you upgraded your account during the 7-days.
The money-back guarantee does not apply to dedicated server Seedboxes, nor does it apply if you paid by cryptocurrency.
How to get a refund
There are two ways of asking for a refund on your package.
First, you can open up a support ticket and request your money back.
Second, you can use the button "Immediate cancellation" which is located on the user dashboard under package details. Then simply tell the provider you want a refund under the reason of cancellation.
Once the request has been received, the Seedbox will be cancelled and you will receive a refund.
In conclusion
So, we have now reached the end of our Seedhost.eu review and test and will bring it to a conclusion.
The provider offers a huge number of plans so there should be a suitable one for everyone's needs out there.
The prices start at as little as €6 and do come with a good amount of storage, 1TB and 10Gbps speed. However, there is a limit to the bandwidth and it does not have Plex. If you want Plex, you are going to have to pay €15 at least.
There is a wide choice of one-click apps available on plans and an easy to use interface.
The provider does offer a free VPN which is a plus, however, on the downside the uploads are metered and the customer support is not the best we have come across.