Almost everyone knows about VPNs, but what is a seedbox, and which one is the best? There are many options out there. In this review, we will be taking a look at Seedboxes.cc.
Seedboxes.cc is a provider of web hosting that happens to also give you a free VPN when you sign up with them. However, this VPN will not stand up against other faster VPN options. And it is quite a deal more expensive than those companies that deal solely with VPNs.
In order to determine if this service is the right choice for you, we will examine things like speed, security protocols, and client support. By the time this review is done, you should be able to decide if this is the best seedbox for you and your torrenting needs.
First, let's dive deeper into just why you should consider investing in a seedbox. If you want to see how this service stands up to a VPN, make sure to check out this article.
What is the Purpose of a Seedbox?
Seedboxes are, in essence, private servers that are dedicated to uploading and downloading digital files extremely quickly. Some seedboxes offer bandwidth speeds of upto 20GB per second, which is generally more than enough to download your favorite films and music faster than you can say 'Seedbox'.
Seedboxes also allow users to transfer files at the same speed that they were downloaded at, allowing for super fast file sharing.
Torrenting
Torrenting is a technology that is mainly used for peer-to-peer file sharing. Any number of users are able to connect and share their files via torrenting, instead of depending on one source or website to download the desired files.
Not only are users able to download files from a public source, but from other users as well, which offers smooth file transfer between users. Each peer acts as a kind of 'mini-server', reducing network load significantly.
Support
When you have an issue and reach out to anyone, you want a client support system that is easy to use and offers a rapid response. Unfortunately, the way that Seedboxes.cc's system is set up, you will likely get neither. You can contact client support through Twitter or with their ticket system. Those are the only two ways you can contact support for help.
The system, according to many reviews from current customers, is not easily navigated and often shows tickets that haven't even been opened. This is frustrating, and with the lack of live chat, Seedboxes.cc is definitely not starting out on the right foot.
Seedbox Cost and Size
Seedboxes.cc offers five different plans, each with a unique name attached. The prices are quite varied, and range from relatively affordable, to more expensive. Their cheapest plan will set you back €13.45 each month, while their most expensive plan costs €71.95 per month. This may seem steep, but it's quite a bargain in comparison to other seedbox providers.
Each plan provides a set download speed of 20GB per second, with unlimited bandwidth traffic per month. Most other seedbox providers charge more for such a high download speed, and even more for unlimited bandwidth, so Seedbox.cc is definitely one of the more affordable providers.
Cheapest Option
The entry-level, basic option is called "Bat Box" and will cost you €13.45 per month. It provides you with 1000 GB of disk space and 5 vCpu cores.
Mid-range Option
Seedbox.cc offers three plans which can be considered 'mid-range'. Their Gremlin Box is not much more expensive than the Bat Box, costing €17.95 per month and providing 1500 GB of disk space and 6 vCpu cores.
The Vampire Box will cost you €26.95 per month, and provides you with 2000 GB of disk space, and 8 vCpu cores. Finally, the Zombie box comes in at a reasonable €35.95 per month, and gives you a massive 3000 GB disk space to do with as you please, as well as 12 vCpu cores.
Premium Option
The most expensive plan that Seedbox.cc offers is the Red Dragon box, and costs €71.95 per month. It provides 6000 GB of disk space and 24 vCpu cores.
Along with price, we looked at payment options, as well as the refund policy to ensure our review covered everything you would need to make an informed decision. When paying for your plan, you have the option to pay with a credit card or PayPal. Alternatively, if you really want to keep your information secure, you can pay with several different types of cryptocurrency.
If you decide to try the service and do not like it, the company does allow you to receive a refund within 7 days. The days and bandwidth you use will be deducted from your payment, and the rest of your money will be returned. In order to do this, you will have to email your request to the company's sales department or open a ticket through their client support system.
Speed
We couldn't discuss a seedbox provider without mentioning their connection speeds. Quick upload and download speeds are the most important aspects of any seedbox, since most people transfer massive files.
As we mentioned earlier, a select few seedbox companies offer download speeds of up to 20GB per second. Lucky for you, Seedbox.cc happens to be one of those companies. And it actually provides 20Gb per second speeds regardless of which package you subscribe to.
While the speed of the seedbox connection is important, there are a couple of other factors that influence your download speed as well, like the torrent itself and how well it was seeded, and if you're using a private or public tracker.
Security Protocols
Security should be at the top of any seedbox or VPN company's list of priorities, since the internet has become infested with cybercriminals out to siphon your sensitive data. With Seedboxes.cc, you receive a VPN that utilizes a 1024-bit Blowfish-CBC encryption cipher. This, coupled with the OpenVPN, elevates the security of the connection.
They also provide access to multiple protocols other than OpenVPN, like L2TP, IPsec, and SoftEther, which further increases the safety of the network routing systems. Another great security feature is the HTTP Proxy service (although, like the P2P capability, is only available through their Netherlands server).
When talking about security protocols, it's also important to consider a company's logging policy. Seedboxes.cc is based out of Cyprus, so they do log some of your information, unfortunately. Their Privacy Policy states that they log the following:
Name, mailing address, email address, and phone number
Billing information
Username/Password
Activity
IP address and browser
Seedbox.cc's Privacy Policy also makes it clear that if a government official were to request any of your information, they would oblige. This might be a deal-breaker for anyone who plans to do a lot of torrenting.
Another issue when it comes to security issues is the leaking of your information. Leaking of your IP or DNS would defeat the whole purpose of installing a seedbox in your computer or other devices. We knew we had to diligently look into whether or not this was going to be an issue. After looking over several tests, we were happy with the results. There was no leakage of either IP, DNS, or WebRTC.
All in all, when you take a look at the security protocols, it is a mixed bag. The VPN that comes with it uses a high-grade encryption cipher combined with good quality protocols. Plus, there are little to no leaks. This means that your information will be safe from websites and sneaky third parties getting to your information.
However, they do quite a bit of logging. And when you are torrenting (which is frowned upon in regards to copyright laws), you want to be as secure and anonymous as possible. You could, of course, go with a different VPN and pair it with Seedboxes.cc. But the company will still log your information. That may not be something you want.
Available Apps
Seedbox.cc has apps available for all major platforms, like Windows, Mac, Android, and iOS. The desktop apps allow you to set up their complimentary VPN service without the need for any prior technical knowledge of VPN configuration.
The Seedbox.cc VPN is also configurable via the mobile apps for Android and iOS. These apps allow you to view some of the important information regarding your Seedboxes.cc subscription.
Through the app, you're able to view any of your unpaid invoices, access all of your seedboxes if you happen to own more than one, view your disk space as of your last app's refresh and the total limit of your plan per month, restart your seedbox, and more.
The installation process for the Seedbox.cc mobile app is almost identical across all mobile platforms. There are only slight changes depending on your device and its operating system. Be sure to follow the steps prompted by your device.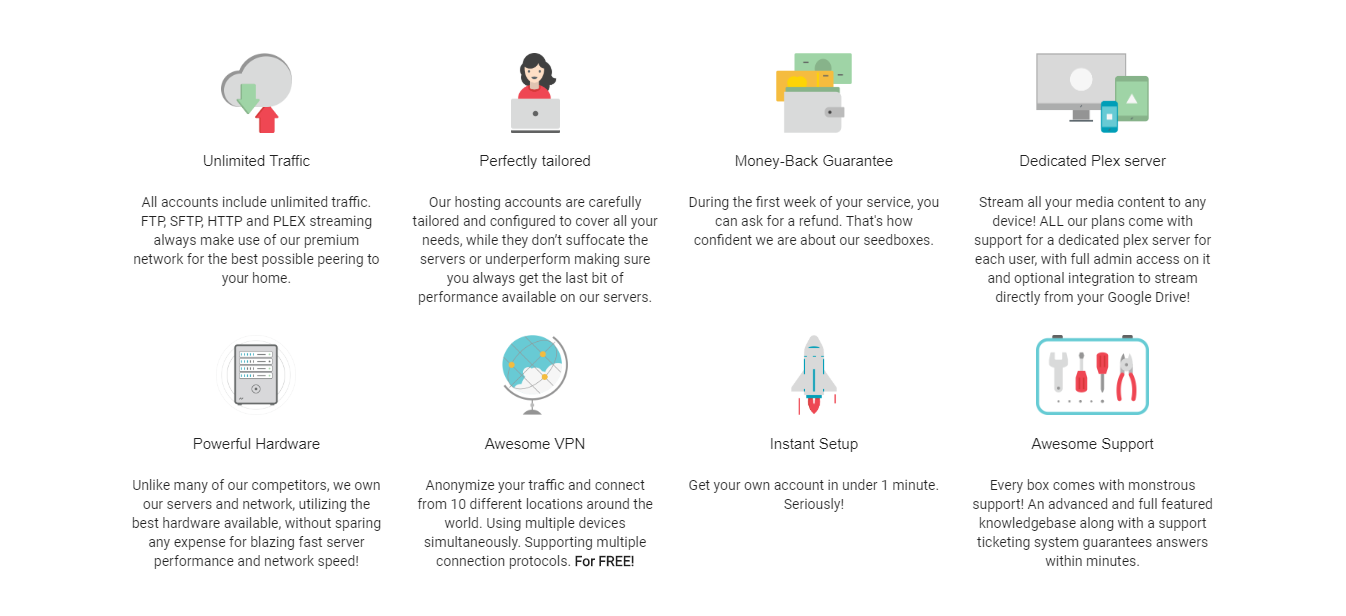 User Interface
As we mentioned above, Seedbox.cc provides apps for all major platforms, aside from Linux. These apps are quite straightforward and easy to use. And they are geared towards the everyday user rather than the dedicated technophile.
We also mentioned that these apps do not require manual configuration, but you are able to configure them yourself if you'd like. Seedbox.cc's VPN apps are quite large, having a file size of about 76MB.
They are very easy to install, and once you get them up and running, the interface is simple and easy to navigate. This makes it perfect for seedbox and VPN users with less experience. The apps let you monitor your bandwidth usage, storage space, and configure your VPN settings.
Keep in mind that the Seedbox.cc VPN service is a complementary one. So you should not expect it to perform as well as popular VPNs like NordVPN. Since it's developed by Seedbox.cc, any browsing you do via their VPN is subject to their questionable login policy.
The Seedbox.cc VPN is not for those who want total internet anonymity.
Pros and Cons
As you can see, it is hard to pin down whether or not Seedboxes.cc is one of the best seedboxes available right now. So, we thought we'd put together a good old fashioned pros and cons list.
Pros
Unlimited bandwidth usage
Extremely quick download speeds (20Gb/s)
Unlimited slots allow for several simultaneous downloads
Each plan offers significant disk space
There are no compatibility issues.
Cons
Only seven servers to choose from
Plans are more on the expensive side
Final Verdict
If you're just looking for a plain and simple seedbox with excellent speeds and large storage capacities, for relatively affordable prices, then Seedbox.cc might be perfect for you. Though it has limited server capability to do P2P, the speeds, storage, and security encryption system are all top-notch. The logging policy might be a concern for some folks. But for the amount of space, you may feel that it is well worth the investment.
The huge storage spaces alone should be enough to convince you, even if the prices are a bit more on the expensive side. But, with the inclusion of a free VPN, it's often well worth it.
If you can't stand the thought of your information possibly reaching the government, then we suggest looking elsewhere. It doesn't seem like Seedbox.cc is going to change their logging policy any time soon. Though with the sheer amount of storage space and unlimited bandwidth, it might be difficult to turn this seedbox provider down in favor of another.
Of course, the decision is totally up to you.
So in summation, if you're looking for a great option to torrent your heart away, we say go for it. For anything else, we say you should probably keep looking.
Hopefully, our review has been thorough enough to help you make your decision with confidence. If after reading this review, you have decided that this seedbox is not the best seedbox for you, make sure to check out our site for reviews and the latest news on other seedbox options.