Seedboxco is better known as The Seedbox Company and it claims to be the best Seedbox hosting servers. It is also said to be anonymous, secure and safe and provides everything needed to get up and running quickly. Therefore, with this in mind, we set out to find out if all these claims are true. So, if you are considering the provider, you are going to be interested in checking out our Seedboxco review and test.
During our test, we considered all of the most important factors you could want in a Seedbox provider. Therefore, we have split the review into how easy it is to use, the speed, customer support, apps, plans and much more.
We are going to begin this review with the pros and cons of the provider.
Pros
Plenty of configuration options for advanced users;
Decent download speed;
Unmetered traffic.
Cons
Only 1Gbps upload speed;
The Seedbox can be difficult to reset;
No live chat offered.
How easy is it to use?
The website itself is pleasant to look at, full of information and images boasting about the many benefits of the service.
At the top are links to pricing, but you don't need to click on it as the hosting plans are highlighted right at the top of the homepage. There are also links to features, apps, the blog, knowledgebase, chat page and FAQ.
Strangely enough, the link to the client login page isn't listed at the top of the page. Instead, you have to scroll right down to the bottom.
The homepage also features a video showing you how to install apps at just the click of a button using the app interface, which is very colourful and one of the best we have seen.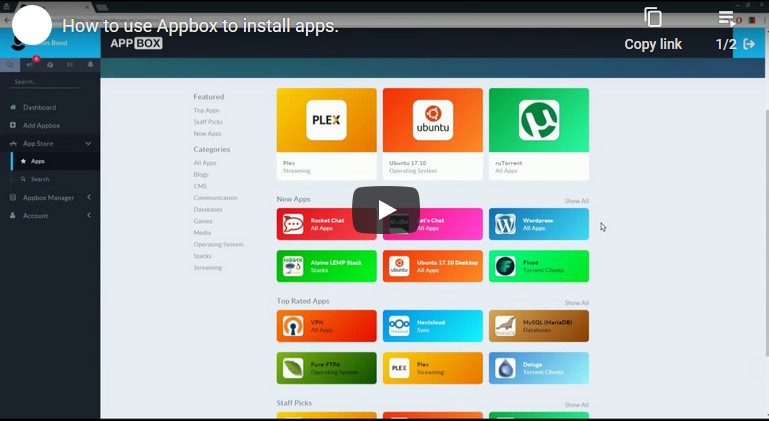 The client interface is called "Appbox" and provides information about your account, including the Seedboxes you have, tickets you have open or open a new ticket and pay invoices.
This is also where you can order new services, view add-ons available, downloads; view the network status and more.
There is also a search option to search the knowledge base, which we found extremely helpful.
How fast is it?
Seedboxco offers 10Gbps download speed and while this is fast, you do have to consider that this speed is shared with other users using the same server.
Of course, the speed should be more than fast enough for you to enjoy good download speeds.
The upload speed is 1Gbps, which again is shared among other users of the server.
The level of customer support
We checked out the level of customer support in our Seedboxco review and were disappointed to find there is no popup box leading to a quick live chat.
However, there is a chat link at the top of the website. We were dissapointed with this as instead of it popping up a box it takes you to Appbox login page. Therefore, to access chat you have to log in first.
This, of course, is nowhere near as fast as with other providers who offer live chat directly where all you have to do is click on the icon and type in your query to get help from a representative.
Worse still, it is not a live chat system. Instead, it is a community support system and you have to post a message. Essentially, it is a forum. Therefore, do not expect to get an immediate answer.
There is a ticket system, which is accessible directly from your client interface. Simply leave a message on the system and wait for someone to reply.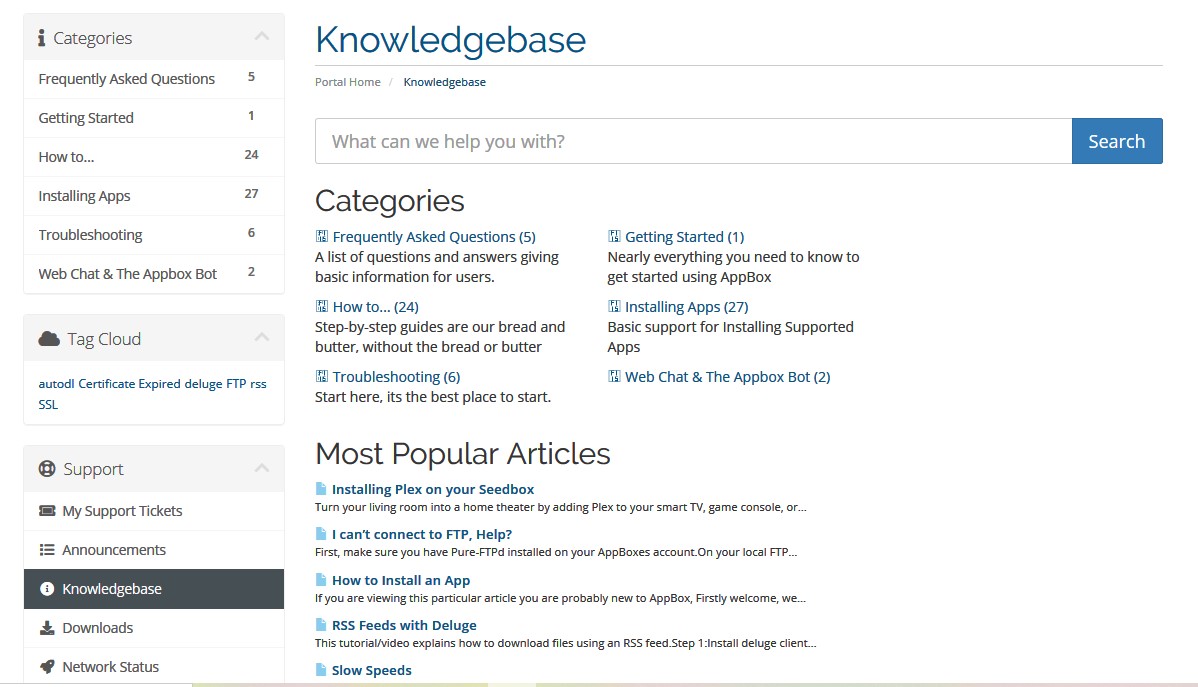 Another type of self-help is the knowledgebase. This lists various guides including getting started, how-to, remote management, installing apps, troubleshooting and more.
Benefits of choosing the provider
So, now let's move on with our Seedboxco review and test by looking at the benefits offered by the provider in packages.
VPN and SSL are included
Seedboxco takes the security of its users very seriously and offers SSL encryption in all browser and FTP connections.
It also includes free unlimited VPN in all packages for additional security.
Plans are packed with tools
All plans come packed with plenty of tools for installing, managing and maintaining the Seedbox with ease. All apps can be installed with a single click while OS environments provide full root access for more advanced users.
Synchronisation
The provider offers plenty of options to keep your files on the Seedbox and your device in sync.
Using any of three apps, FTP, FileRun or Resilio via WebDAV, users can choose to synchronize all or part of the Seedbox onto a local hard drive.
Stream directly from the Seedbox
Seedbox users can stream media directly on the Seedbox without having to transfer files to their hard drives thanks to apps that are installable with a single click.
Plenty of ways to use the Seedbox
The Seedbox can be used not just for torrenting, but also to install webservers. For instance, you can install a WordPress blog along with SEO tools and PHP.
Apps in Packages
In this section of our Seedboxco review, we look at the apps included in plans and there is a wide range from which to choose.
All apps can be installed with a single click and they include:
OpenVPN server;
Ubuntu;
FileRun;
MySQL;
Flood;
Nextcloud;
Resilio Sync;
TeamSpeak;
WordPress;
Tuleap;
SeAT;
Pure-FTPd;
Mattermost;
Many more.
Is Plex supported?
Plex is supported on all plans so you can stream from your Seedbox. This saves you having to download the file to your hard drive.
Along with allowing the ability to stream, Plex is also a valuable library for your media and it works on all devices, including computers, FireTV, Roku, Android, iOS and more.
What bitTorrent client is supported?
One of the main uses of a Seedbox is downloading and uploading torrents. To do this you need a torrent client installed on your Seedbox.
There are four choices of torrent clients to choose from, ruTorrent, Transmission, Deluge and Flood.
Configuring ruTorrent on a Seedbox is easy. Once it has been configured, in just a couple of steps, users have a web frontend to use that is very similar to the uTorrent interface commonly used on desktops.
Access to using the torrent client is as simple as clicking on a link once installed.
Plans available
Now onto the part of our Seedboxco review and test that looks at the packages on offer and there are five to choose from, ranging from €10.45 to €37.45 per month.
All plans share some of the same features and these are:
1Gbps upload speed;
10Gbps download speed;
Unmetered traffic.
It is also worth mentioning that the prices we talk about here are for pay monthly plans but you can make big savings if you choose to pay upfront. The provider offers 5% off 3-monthly plans, 10% off 6-monthly plans and 15% off 12-month plans.
The entry-level plan has the name AB-1000, named after the amount of storage offered. It costs €10.45 per month and offers 1TB of storage along with ten app slots.
The AB-1500 has 1.5TB of storage space and up to 15 app slots for €15.45.
AB-2000 offers 2TB of storage space along with 20 app slots with a price tag of €19.45.
AB-3000 gives 3TB of storage space and up to 30 app slots for €28.45.
Finally, at the top end is the AB-4000 package with 4TB of storage space and 40 app slots for €37.45.
Money-back guarantee
Seedboxco offers a 7-day money-back guarantee on plans. A ticket has to be raised from the client dashboard stating that you want a refund on the plan.
It states that only one refund may be issued to users in a period of 6-months. As it states this, it may be possible to take out, then cancel a plan and then 6-months later take out another plan, and give it a trial. Then cancel it again.
Cancelling the plan after 7-days
The plan and payments continue month to month unless you cancel it.
To do so users can use the cancellation option found in the customer portal. You do have to give one-hour prior notice to the end of the plan running out of you have a monthly plan or two months if you have a three-month or longer plan.
To summarise
Now to the round-up part of our Seedboxco review and test.
The provider offers a range of plans suitable for both beginners and users that are more advanced, starting from €10.45 per month and going up to €37.45 per month. However, these become cheaper with savings if you choose to pay upfront for longer-term plans.
The entry-level plan at €10.45 per month offering 1TB (1000GB) of storage has to be compared with the entry-level offered by Seedit4.me. Its entry-level plan is €9.99 per month and offers 1500GB HDD storage, which is, of course, better value for money.
You can also get better value for money with Seedit4.me on the top-level plan. The provider offers 5000GB of storage for €34.99, while with Seedboxco you pay €37.45 for 4TB (4000GB) of storage.
Seedboxco does offer a large range of apps but there are limits as to how many can be installed on your Seedbox. These range from 10 apps up to 40.
All packages come with Plex and a choice of four torrent clients along with many other benefits and are suitable for even the most advanced users thanks to root access.
So, if you are considering this provider there are good and bad points as with all, plus you get a 7-day money-back guarantee on all plans.