Recently we took a good look at iseedfast, a Seedbox provider who claims to offer affordable premium Seedboxes for great prices. In our iseedfast review, we will look at how easy the service is to use, the speed of it, level of customer support, benefits, apps and much more. So, is this a provider worth considering or should you continue your search? Let's find out.
We will start this review and test by first highlight the pros and cons of the service.
Pros
Unlimited active torrents;
No logs kept;
Low priced plans.
Cons
The basic plan doesn't have a VPN;
Few payment choices;
No public trackers;
Plex is not included;
Poor customer support.
How easy is it to use?
The website itself is basic but easy to navigate with a few links at the top to take you to the client area, support, FAQs and terms and conditions. There is nothing exciting about the FAQ page as just a few of the most frequently asked questions are listed.
Scroll down a little and you can check out the range of four plans offered, with the benefits of each listed and a link to take you to the order page.
Scroll even further down and highlights of the service are provided with the hopes of persuading you that the Seedboxes offered are the best out there.
There is also a video on the home page showing you how to use the torrent client on the Seedbox. This is kind of a quick how-to guide and if you have used torrent clients in the past this is something you can skip as you will already know how to use ruTorrent.
The client user interface itself is colourful looking showing you invoices due, services and products, support tickets.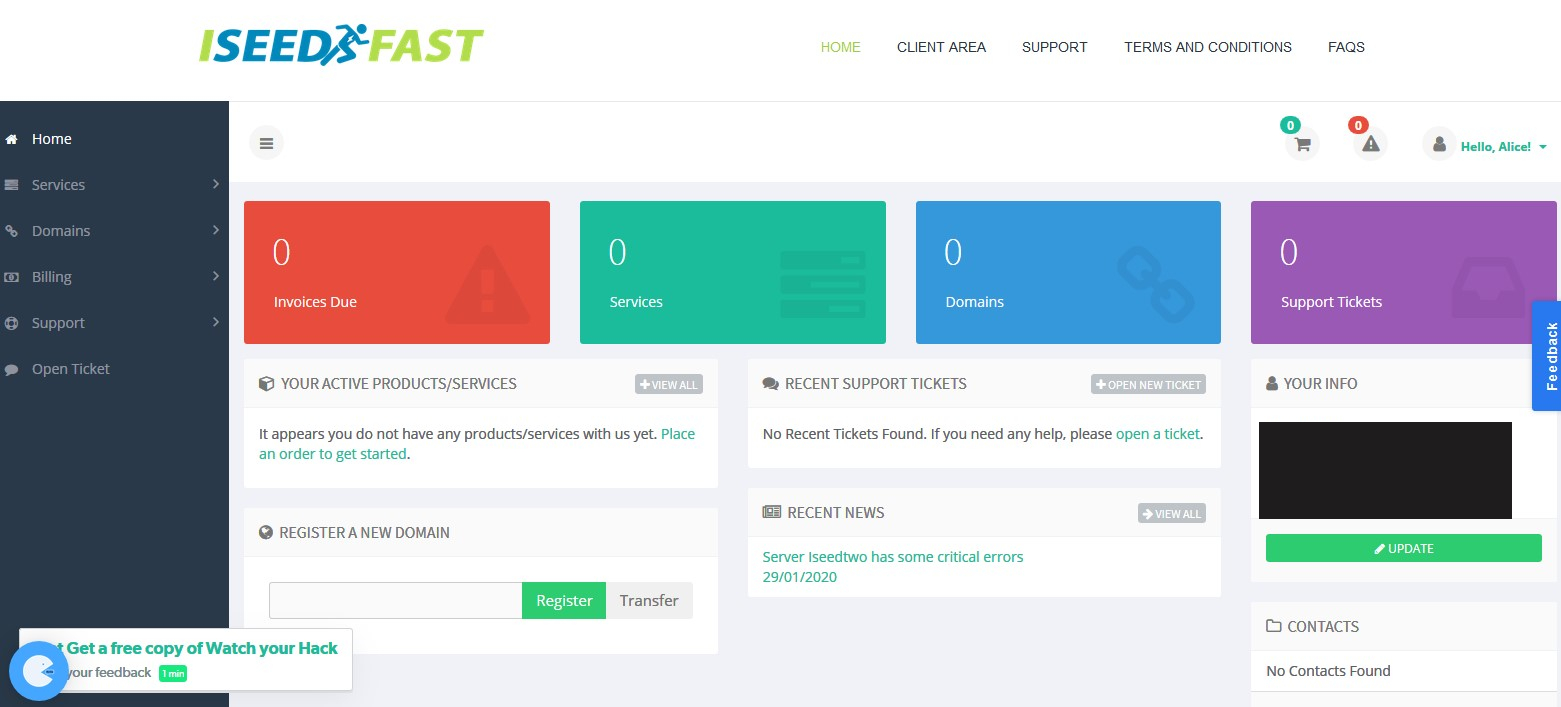 It is also, where you can open a ticket, order services and view available add-ons. There are also links on the left to news, downloads and find out the network status. Even beginers will have no issue is finding thier way around and will be up and running in next to no time.
How fast is it?
The range of plan from iseedfast offers 1Gbps speed. The provider states that Xeon E5 servers are used to ensure that users obtain the maximum processing speeds, these servers are only available on plans above the entry level.
At the same time, the service offers 4HDDs on each server for the least I/O transferring at 1Gbps on the disc.
Of course, you do have to take into account that you are not the only one using the server as it is shared. Therefore, the speed is going to depend on how many are sharing and how the Seedbox.
Level of customer support
In this section of our iseedfast review and test, we looked into the level of customer support, as this is an important factor when choosing a provider.
The news is not good in this aspect; in fact, the customer support is poor. Perhaps one of the worst we have reviewed so far.
There is no live chat available to start with, which is a big let-down.
If you click on the Support link at the top of the website, for some strange reason it takes you straight to the Open ticket page.
You then have to look to the left-hand side of the webpage for links to the support pages. Support pages include announcements, knowledgebase, download and network status.
However, don't waste your time in clicking on the knowledgebase link, as there isn't anything on the page.
Whether the website is a work in progress and the articles have not been uploaded yet remain to be seen. This is a let-down compared to some of the knowledge base we have reviewed in the past with other Seedbox providers.
Benefits of the provider
In this part of our iseedfast review, we looked into the benefits of choosing the provider. So, what does it offer?
System files and plugins are constantly updated;
No limit to the number of active torrents;
4 HDDs on each server;
No logging;
High-grade servers;
Apps are optimised for speed.
What apps are included
Now onto the part of our iseedfast review and test that looks at what apps are included in plans.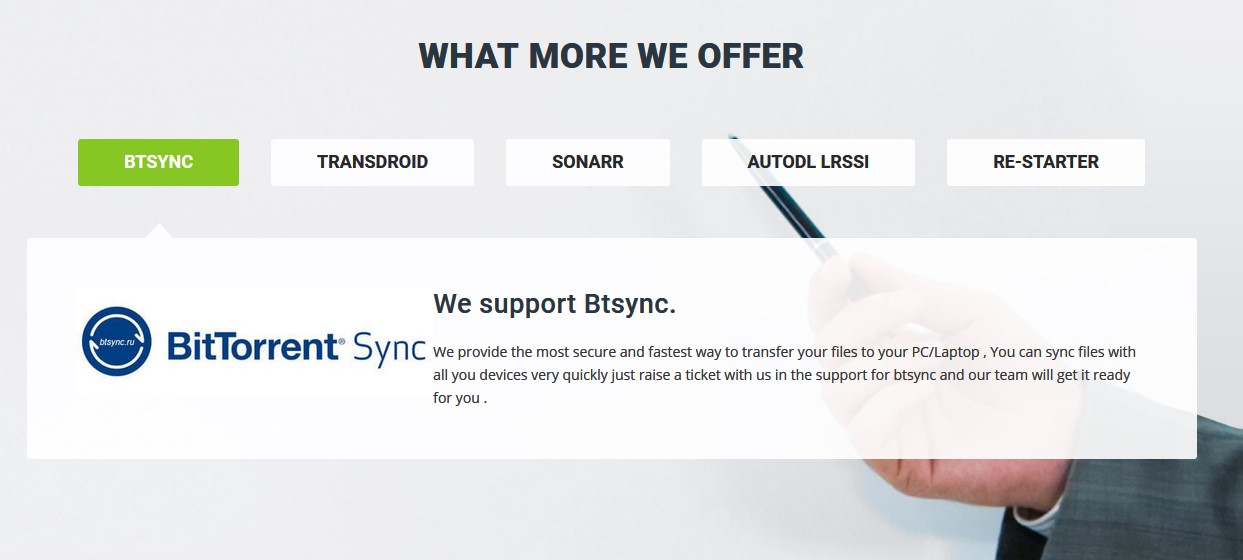 All plans above the basic entry-level have access to the following apps.
BTSync – BTSync provides a fast and secure way of transferring files to the computer. It allows users to synchronize files with any device.
Transdroid – Transdroid is supported on iseedfast allowing users to access the Seedbox from any Android device.
Sonarr – Sonarr is supported on NZB Drone. All you have to do to use it is to install Sonarr on the computer you are using and use the settings given.
Autodl Irssi – All of the Seedboxes come preinstalled with Autodl Irssi preloaded. This automates downloaded from the private trackers. It is easy to update thanks to the button.
Restart – This app allows users to easily and quickly restart the Seedbox.
Is Plex included?
If you want Plex so you can stream movie and video files directly from your Seedbox you are going to have to look elsewhere as it is not included in any of the plans from iseedfast.
Seedit4.me offers a good choice of plan with Plex included. For just over $16 you can get Plex support up to 1080p along with 15 apps, free VPN, 2000 GB HDD storage and more.
BitTorrent client support
ruTorrent is included with all plans to make uploading and downloading torrent files easy and fast. Plans include unlimited torrents, however, the number of torrents you can store on your Seedbox is going to depend on the amount of storage you have in your plan.

To upload a file to the ruTorrent interface all you have to do is drag and drop the file from your computer to the client.
An alternative method is to click on the far left top icon and choose the file from your computer.
Choice of plans
There is not a huge choice of plans available, just four in total and all are relatively low in price.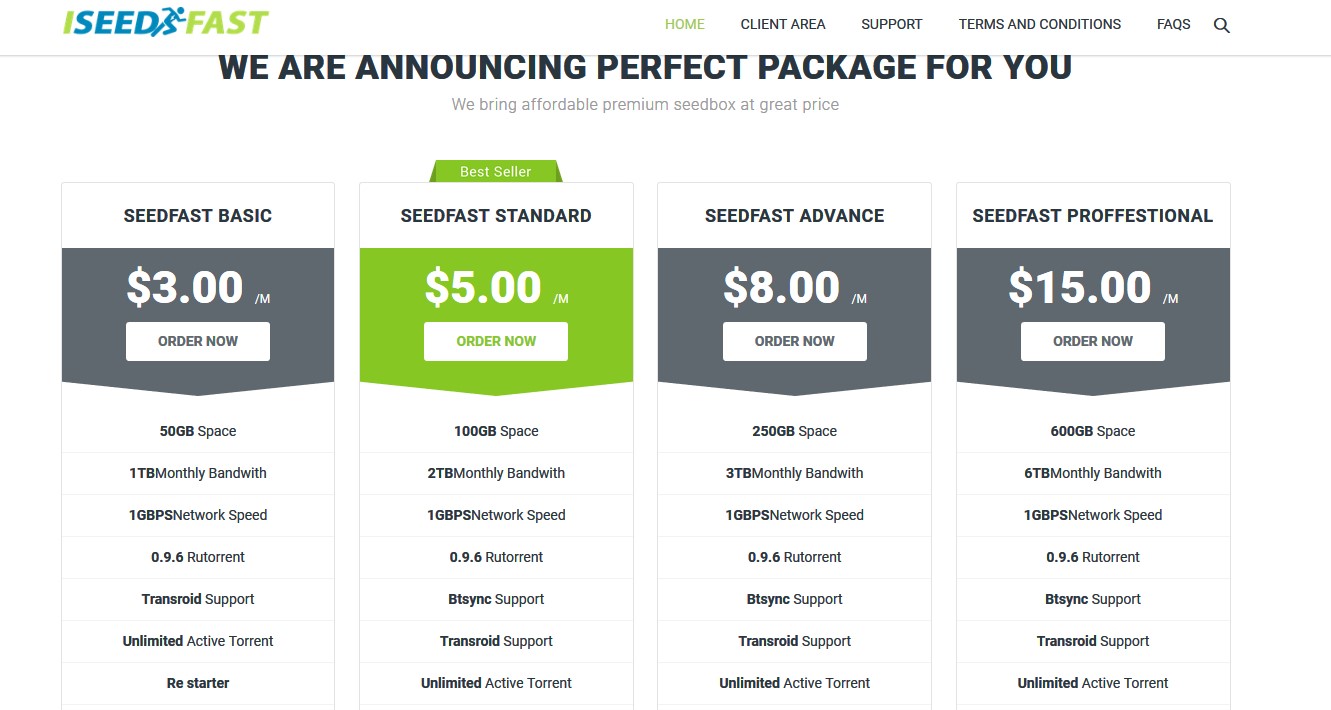 First, we will start with what is included in all plans.
1Gbps network;
Unlimited active torrents;
No public trackers allowed;
FTP/SFTP support;
Netherland server.
 The Seedfast Basic plan
These start with the entry-level which is the Seedfast Basic. As the name and price might suggest this is a basic plan.
The plan costs just $3.00 per month and for this, it gives you 50GB of storage space, which is not a lot if you download lots of movie or videos. You also get 1TB of monthly bandwidth, again not a lot if you torrent a lot.
The Seedfast Standard plan
The Seedfast Standard plan costs $5.00 per month but the storage space jumps up to 100GB of storage space and 2TB of monthly bandwidth. The plan runs on the Xeon E5 processor.
The Seedfast Advance plan
The Seedfast Advance plan costs $8.00 per month and for this, you get 250GB of storage and 3TB of monthly bandwidth. The plan also runs on the Xeon E5 processor.
The Seedfast Professional plan
The top-end plan is the Seedfast Professional plan costing $15.00 per month and offering 600GB of storage space.
This is not a great deal when you take into account Seedit4.me offers 2000GB HDD storage with unmetered bandwidth for just over $16.
The professional plan also includes 6TB of monthly bandwidth and runs on the Xeon E5 processor.
Money-back guarantee
Now onto the part of our iseedfast review and test that looks into the money-back guarantee.
The provider offers a 7-day money-back guarantee. It says you can get your money back providing you claim within that period.
To claim a refund you have to submit a ticket and wait for customer support to get back to you. Bear in mind that it doesn't offer the quickest support ticket system so you might have to wait a day or two to hear back.
We went into the terms and conditions to look at the criteria for refunds but it is brief and does not state any terms concerning the money-back guarantee.
In summary
Now to round-up our iseedfast review and test and the provider does offer cheap plans. The most expensive plan is $15 for 600GB storage; however, competitor Rapidseedbox offers a plan for $16 giving 1TB of storage. The latter, of course, is better value for money.
There is also a lack of a huge list of apps in packages, more so when compared to Seedit4.me and the huge number of apps offered in even the entry-level package.
One of the biggest let-downs with iseedfast is the lack of Plex in plans. If you want to stream your torrents, you are going to have to download the file to your device. There are many providers out there offering plans that include Plex for a similar price.
The customer support leaves a lot to be desired, despite the fact that it claims to offer support 24/7/365. It only uses a ticket system and this is very slow.
Of course, if you still are considering this provider you can try a plan out as the provider does offer a 7-day money-back guarantee.