Feral hosting claims you can get started in less than five minutes with packages. Slots run on the finest servers for the best possible performance and are easy to use. Users have full control and can modify installations and run their own software on packages. With all these promises we could not wait to begin our Feral hosting review and test to find out if it lives up to the claim.
So, throughout this review are going to look into the all-important aspects of a Seedbox to find out whether this is a provider worth considering or whether you should continue looking. First, we will start by pointing out the main pros and cons of this provider.
Pros
20Gbps speed;
Unlimited traffic;
Customisable;
Huge range of apps.
Cons
No live chat;
Basic client interface.
Is it easy to use?
Our first section of this Feralhosting review and test is all about how easy it is to use.
The website is plain and simple looking and the homepage seems to be the pricing page as this is what it defaults to when typing in the website name.
There is only a link to login at the top of the page, with the main focus of the site being on the plans. It then goes on to explain a bit about the capability-based slots and provides you with some of the benefits of choosing the provider along with a few FAQ.
The website itself is easy to navigate and further down the homepage there is a link to send the provider an email.
Finally, right at the bottom are links to the Wiki help page, about the provider and a link for rerouting traffic. This is something for advanced users and better left alone if you are a beginner to Seedboxes.
The user interface is basic and this is where you can get information relating to your Seedbox, including accessing your payments and invoices, settings, Wiki and FAQ, plus, how much disc space you have used (after clicking on the server name), and upgrading your slot.
How fast is it?
This part of our Feral hosting review and test looks at the speed offered in plans.
All plans offer 20Gbps and this is a great speed. Of course, you are not the only one using the Seedbox, so the speed is shared among other users and will affect the true speed.
The provider also offers capability-based slots. These plans also come with 20Gbps speed. However, the provider claims the servers are capable of writing and reading to and from disks at 40Gbps, which represents the fastest speed achievable on a 20 Gbps server.
The level of customer support offered
There is no live chat support offered and this is a huge downside as there is no faster way to obtain help than through live chat. So, what are the actual choices for contacting support?
It does offer help through support tickets. You have to send a ticket through the website, following the suggested format, and then wait to get a reply.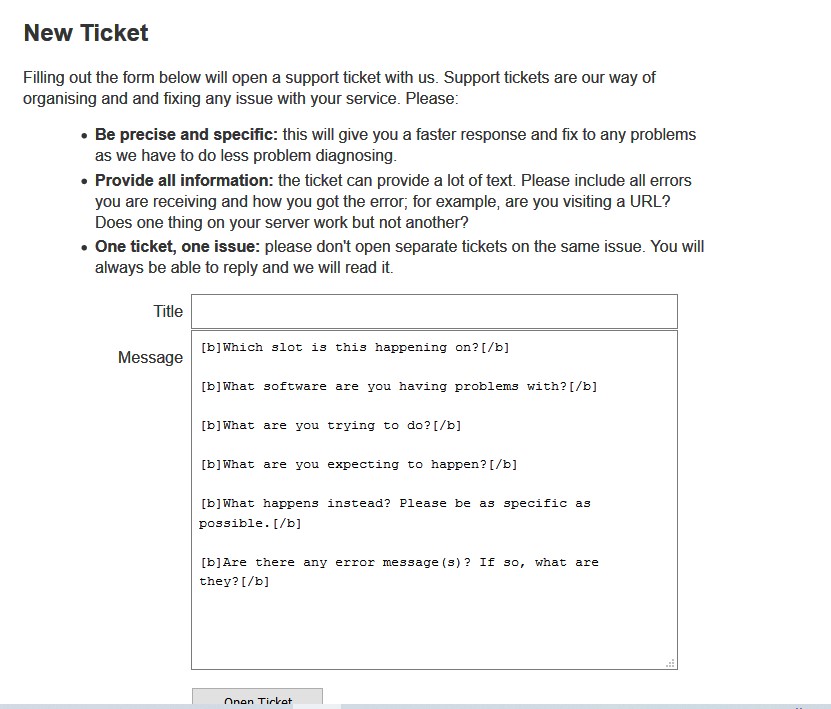 How long you have to wait will depend on the time difference between you and the provider. Of course, how busy the provider is will also affect how long you have to wait.
There is a Wiki/FAQ page for self-help and this is divided into different sections. Sections include Getting Started, Using slots and using the software.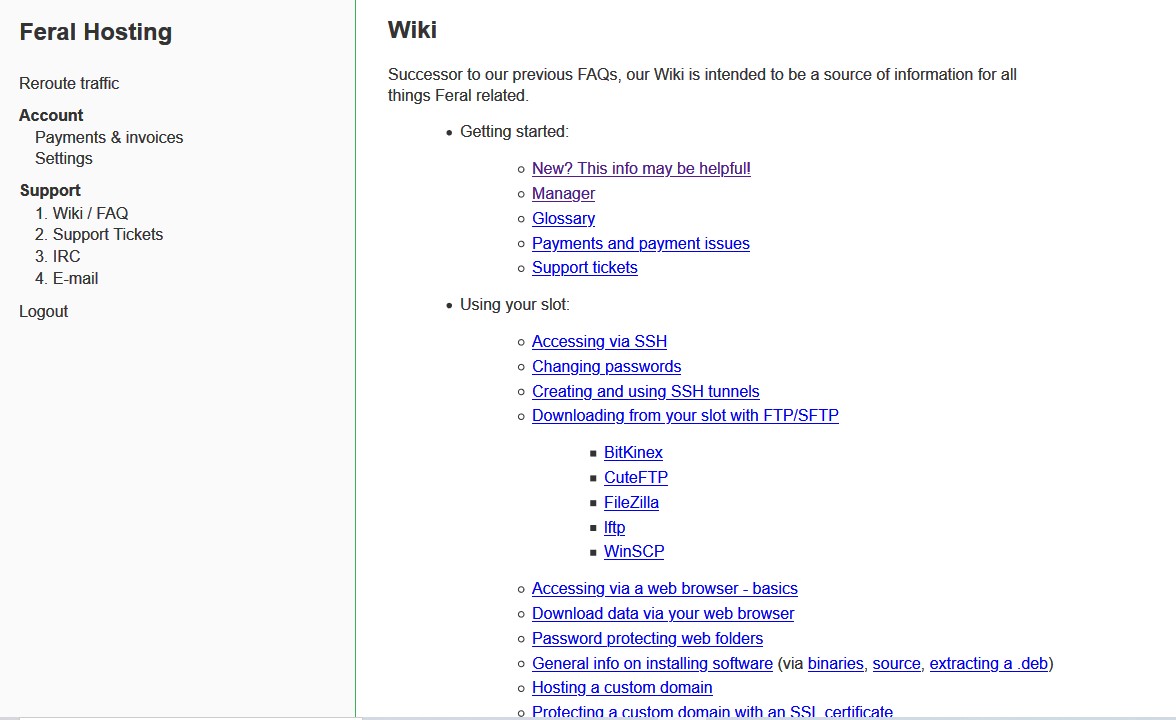 You will also be pleased to hear there is a wide range of how-to guides, for anything from getting started with your Seedbox to installing a wide range of apps and password protecting folders on the web.
Benefits of choosing the provider
Now this part of our test looks into why you might want to choose Feralhosting as your Seedbox provider. Well, the provider boasts that installation takes just minutes and users have full control over the Seedboxes, being able to run their own software. There is also a small selection of one-click installation apps.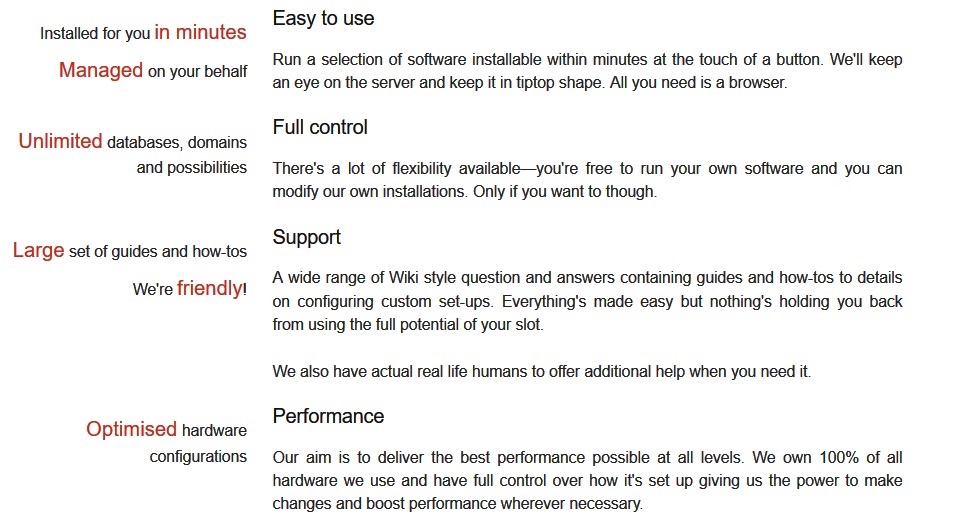 The provider offers unlimited domains and databases in packages, along with offering hardware configurations that are fully optimised for providing the best possible performance.
What apps are included?
Now onto the section of our Feralhosting review that takes a look at what apps are included in packages.
There is a choice of just five apps that can be installed via the web manager and these are:
ruTorrent;
Deluge;
Transmission;
MySQL;
OpenVPN.
Of course, you are not limited to using just these few apps as you can use custom software installation. Among the apps that you can choose to install are:
Autodl-irssi;
Emby;
Lidarr;
MKtorrent;
Plex;
Pyload;
gBittorent;
Radarr;
Resilio Sync;
UnRAR;
Many more.
In total, plans support more than 30 apps, all of which can be custom installed on the Seedbox.
Is there support for Plex?
All packages have support for Plex so you can download torrents to the Seedbox and then stream online once you have installed Plex. This means you can save space on your computer's hard drive and stream with security thanks to OpenVPN.
What bitTorrent client is supported?
You can install torrent clients on all packages and you have a choice of ruTorrent, Deluge and Transmission.
ruTorrent is one of the most widely used torrent clients when using a Seedbox. This is because it has a user interface much like the popular desktop client uTorrent.
ruTorrent is included in the apps that can be installed directly through the web manager interface.
Once installed the client can be accessed using the link sent to you in the email when you signed up. This is generally in the form of https://server.feralhosting.com/user/rutorrent/.

To add a torrent using ruTorrent just click on the "Add" icon button at the top left-hand side of the client and choose the torrent from your computer. Alternatively, drag and drop the icon of the file directly into ruTorrent.
Deluge and Transmission can also be used for torrent files; however, neither is as popular as ruTorrent.
Choices of plans
There is a total choice of 11 packages ranging from just £10 per month and going up to £120 per month at the top-end for SSD storage.

All of the following packages come with 20Gbps speed and unlimited traffic per month. The differences in the packages are as follows:
The Helium plan costs £10 per month and offers 1TB of storage;
The Neon costs £15 and offers 1.5TB of storage;
The Argon package is £20 per month and you get 2TB of storage;
The Krypton plan is £30 per month offering 3TB of storage;
The Xenon package is £45 per month with 4.5TB of storage.
The provider also offers capability-based slots on RAID0, all of which offer 20Gbps speed, however as they are using SSD servers speeds reach up to 40Gbps. Plans come with unlimited traffic and off-peak bandwidth.
The provider explains Off-peak means that when the network connection reaches its peak for the month the traffic is reduced. It goes on to say that this generally occurs to half of the traffic at weekends for around two to three hours.
The prices for these plans are as follows:
150 SSD GB storage for £15 per month;
200 SSD GB storage for £20 per month;
300 SSD GB storage for £30 per month;
600 SSD GB storage for £60 per month;
1200 SSD GB for £120 per month.
Is there a money-back guarantee?
Now onto the money-back guarantee section of our Feral hosting review.
The provider does not offer a trial for Seedboxes per se; however, it does offer a 7-day money-back guarantee.
You can sign up for a package and if you are not happy, you can claim a refund within that 7-day period.
Essentially, this does provide you with a trial as you do not have to give a reason for cancelling and you do get a refund in full. This is unlike many Seedbox providers who offer refunds minus the cost of the bandwidth used.
Cancelling your plan
Feralhosting makes it easy to cancel your plan at any time after the 7-days.
In fact, you do not have to cancel the plan. Simply do not renew it after the month. You do not even have to tell the provider you want to cancel.
When the month is up and you do not renew the plan, the provider will recycle your slot. It goes without saying that you should ensure you have removed any files and downloads stored on the Seedbox, as you will lose access to them.
In summary
Now we will bring our Feral hosting review and test to a close with a summarisation of what we have found out about the provider and packages.
First point, the cheapest package is £10 per month (€11.34) offering 1TB (1000GB) of storage and 20Gbps speed. In comparison, you can get 1500GB of storage and unmetered bandwidth for €9.99 per month from Seedit4.me.
Secondly, the SSD plans are expensive for the storage space you get for your money, as you only get 1200 SSD GB for £120 per month.
However, on the plus side, a good range of apps are supported in plans. Caution though, only a few can be installed by one-click through the interface.
The provider is let down by lack of customer support with no live chat option, however, there is a good range of self-help guides available.
The good news is you can try out the provider for 7-days thanks to an unconditional money-back guarantee and you get a full refund unlike some of its competitors who take into account the bandwidth used during your time with them.