If you are considering signing up for a Seedbox with this provider, you really should read our Cloudboxes.io review and test first. The provider claims to offer the easiest, most reliable and powerful Seedbox service. So, does it live up to its claim? We have put the provider through its paces by checking out everything essential when choosing a Seedbox. So, read on to find out everything you need to know about the provider.

Throughout this review you will find out how easy the service is to use, the speed offered, how good the customer support is, the benefits to choosing the provider, apps offered and much more.
First, we will begin by showing you the main pros and cons of Cloudboxes.io review.
Pros
Unlimited bandwidth;
Unlimited outgoing traffic;
20Gbps speed;
Live chat (when online).
Cons
Only three choices of plans;
Small knowledge base without a search.
How easy is it to use?
The first category in our Cloudboxes.io review is how easy the site and client interface is to use.
First, we have to say that the website is one of the most basic and plain looking that we have seen during the testing of Seedbox providers.
At the top of the site are links to Wiki (help pages), the status of the site, follow on Twitter icon and Share icon. There is also links to login and buy a Seedbox.
Scroll down a little and you see the plans and apps available and little else.
At the bottom of the site is the option to open a ticket, find the status of the service and an about us section.
The user interface itself is also extremely plain but it does provide access to everything you need. It shows the Seedboxes you have ordered along with any invoices.
It also provides information about your storage use along with uploaded traffic. You can also use the link to view tickets and open a ticket.
How fast is it?
Cloudboxes.io offers 20Gbps speed on its three plans. While this does sound very attractive, you do need to consider that these are shared plans and as they are shared, other users will be sharing the server alongside you.
Therefore, you are not going to get full 20Gbps. On saying this, the speed should be more than adequate for your needs and you should be able to download with fast speeds.
The level of customer support
This part of our Cloudboxes.io review and test focuses on the level of customer support available.
Live support, or not
At first glance, it looked good for customer support, as there is an icon in the bottom right-hand corner of the website for live chat. This, of course, is by far the fastest way to obtain help.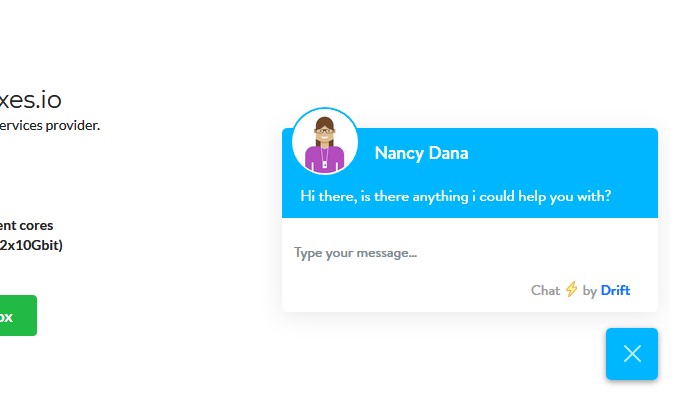 However, this quickly turned to disappointment as we typed in a request for help and found that live chat was offline. This only left us with the option of leaving an email address.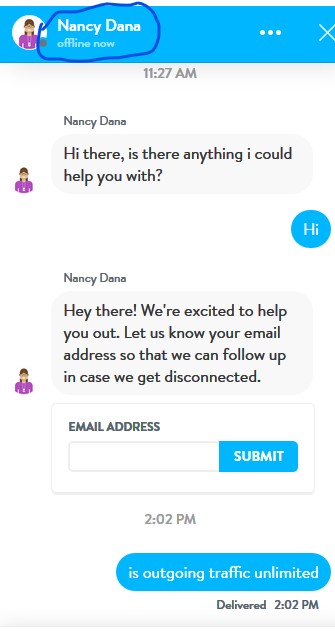 We gave the provider the benefit of doubt and went back to check on the live chat some hours later, but still got the same result, offline.
Wiki help page
There is a link to the Wiki help pages, which does give some self-help advice.
However, it is not the most comprehensive that we have seen and it did not impress us very much.
Support ticket
There is also the option to create a support ticket and wait for someone to get back to you. In our opinion, this is not fast and you could be left waiting for a couple of days before receiving a reply.
Due to the above factors, we were extremely disappointed with customer support.
Benefits offered by the provider
In this part of our Cloudboxes.io review and test, we look at what the provider offers to entice you to choose their Seedboxes over any of the competitors out there.
One of the things the provider boasts about is 1-click installable apps on plans. However, this is nothing out of the ordinary as most of the competitors out there offer a range of once clickable installation apps.
The provider states it puts faith into its strong hardware and software infrastructure supporting data and Seedboxes. Hardware is 2 x Intel XEON CPUs with as much as 40 concurrent cores.
The apps included in packages
Our Cloudboxes.io review would not be complete without looking into the apps included in packages.
Here are the apps that can be installed with one-click from your dashboard.
Sonarr;
CoachPotato;
Emby server;
Syncthing;
Plexdrive;
Rclone Mount;
Nextcloud;
File manager;
Storj.
Is Plex included?
Plex is supported on plans and can easily be installed through the client interface with one-click. On saying this, while the installation is one-click you do have to enter some information.
To install your Plex server you just have to log in to the dashboard for your account and choose the Seedbox from the list that you wish to install it on.
You should see a tab telling you about the available applications, so choose Plex, then click "Install".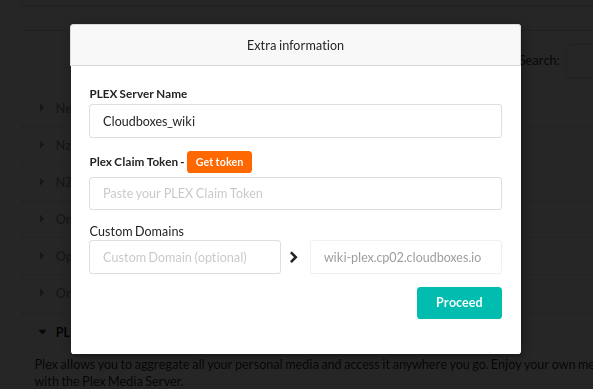 When the installation window opens type in the name of the Plex server under the server name and click "Get Token".
Log in to your Plex account to get the token and then paste it into the field on your client dashboard. Click on the "Proceed" button.
Once Plex has been installed, you should see a button on your client dashboard that says "Open Plex" and this is how you can gain access. You can also check for updates and install them along with enabling CDN.
BitTorrent client support
This part of our Cloudboxes.io review and test focuses on which torrent clients are offered.
There is a choice of bitTorrent client support and you have to choose between the three when signing up for the plan. The choices are ruTorrent, Deluge and Transmission.
 ruTorrent

ruTorrent is one of the most popular choices of torrent clients due to it being easy to use, as it resembles the popular uTorrent desktop client.
The client is easy to install via one-click using the client dashboard. To upload a torrent you can drag and drop the torrent from your desktop directly into ruTorrent or you can choose to click on the icon up at the top left-hand side of the ruTorrent interface.
Deluge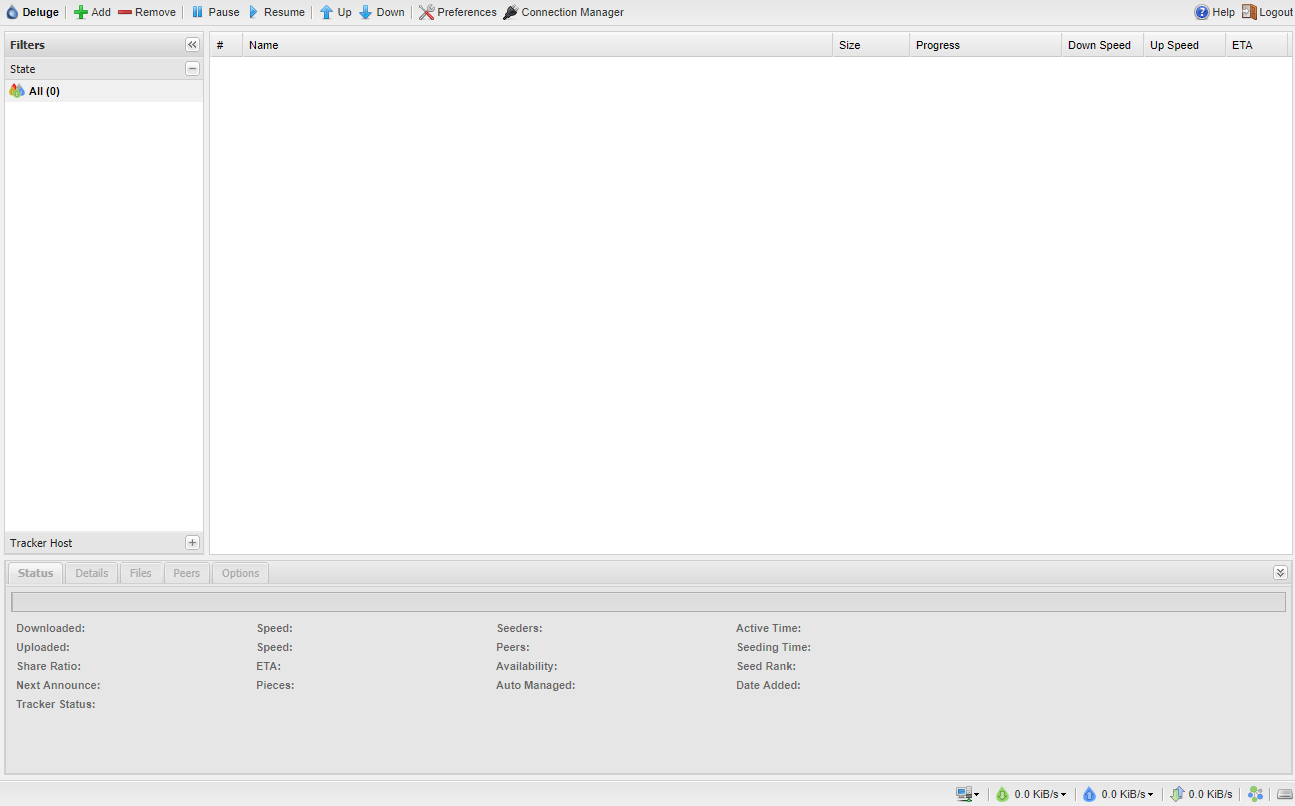 Deluge is an alternative torrent client that is lightweight but not as popular as ruTorrent.
Transmission
Another alternative is Transmission; again, it is not as popular or as widely chosen as ruTorrent.
The choice of plans
We would have liked to see a wider choice of plans. When undertaking our Cloudboxes.io review and test we found only three plans listed on the website.
The plans are a little confusing as it does state you get unlimited outgoing traffic. However, underneath this, it does give what seem to be limits. For instance, with the entry-level plan, it states unlimited outgoing traffic but also 4TB + 100Mbit unmetered. We did try contacting customer support asking them to explain what it meant but didn't get a response.
The choices of plans are very limited compared to many of its competitors who offer a huge range of plans. The packages don't have fancy names; they are simply listed as Small, Medium and Large.
The small plan
The small plan costs €14 per month. For this, you get 1TB of storage space NVMe + RAIDO SAS HDD, unlimited incoming traffic and unlimited outgoing traffic (4TB + 100Mbit unmetered).
The plan has 20Gbps speed, while this is good, however, with it being a shared plan you do not get the full amount of speed.
The medium plan
The medium plan is €29.95 per month and offers 3TB of storage on NVMe + RAIDO SAS HDD, with unlimited outgoing traffic on (12TB + 100Mbit unmetered), plus unlimited incoming traffic.
It also offers 20Gbps uplink speed, SSL encryption on apps, servers that are not overbooked, custom apps on medium and large packages, Root access, Plex support, VPN support, Root access and dedicated IPS.
The big plan
The biggest plan jumps up to a whopping€79.95 per month and comes with 6TB of storage space, 20Gbps speed, along with unlimited outgoing traffic (35TB + 1Gbit unmetered).
It also comes with custom application requests, SSL encryption on apps, re-routing traffic, and Easy Web connectivity checker, root access, VPN support, dedicated IPS and more.
Money-back guarantee
Now onto the section where we look at the money-back guarantee offered by the Seedbox provider.
You can find the terms and conditions of the refund policy in the link at the bottom of the website.
The provider offers a 7-day money-back guarantee on plans. However, you should read the T&Cs to make sure you are eligible to claim a refund.
In short, the terms and conditions state that you can order any Seedbox from the provider and test it for 7-days. The refunds are given on a pro-rata basis. This means it is based on the amount of traffic you use.
The provider has made this simple to understand, it bills at €2 for every TB of bandwidth used during those seven days. Therefore, the provider deducts the cost of every TB used from the total amount you paid.
Refunds only apply to new orders.
To summarise
 Now let's bring this test of the provider to a conclusion by summarising our Cloudboxes.io review.
The choice of packages is small when compared to some of the providers out there and there are many cheaper providers on the market offering entry-level plans starting at €5.
The entry-level plan starts at €14 for 1TB (1,000GB) of storage, however, you should weigh this up against the plan offered by Seedit4.me for €14.99, which comes with 2000GB HDD storage and a huge range of apps. This is far better value for money.
The customer support is a huge disappointment. Many hours later we were still waiting for a reply from customer support. In comparison is the customer support of Seedit4.me whose live chat is extremely good, receiving an answer in seconds.
You can get a 7-day money-back guarantee with the provider to test out the service. However, be aware that you will be charged €2 for every TB of bandwidth used and this will be deducted from the amount you receive back.
All-in-all there are cheaper providers out there offering a much wider range of plans. Plus, a much better customer service, good speed and plenty of apps to choose from.