Seedbox.io offers you many different payment methods in order for you to find the one that suits you best. Between PayPal, Bitcoin, Credit Card, PaysafeCard, Bank Transfer and many others payment methods, you'll definitely find the one you need. With the large choice of Seedboxes offered by Seedbox.io, you'll easily find something that will enable you to download, share and store your files. Discover all the different means of payment offered by Seedbox.io.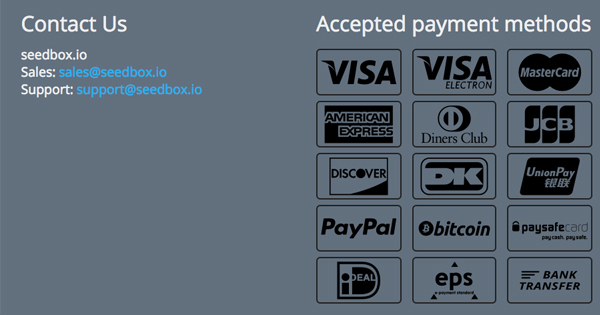 Pay with many different methods
As you can see on the screenshot above, the payment methods with Seedbox.io don't disappoint. Indeed, you'll be able to pay with :
The Credit cards : Visa, Visa Electron, MasterCard, American Express
The online wallets : PayPal, Ideal
Bank Transfer
Crypto-currencies : Bitcoin
And prepaid cards such as PaysafeCard
This is maybe the largest choice you'll have with our Seedbox providers.
Having a large choice of payment methods is a good start. Yet, you also need to have a large choice of Seedboxes in order to find something that really suits your needs.
One more time, you won't be disappointed with Seedbox.io. Indeed, you'll have 12 Seedboxes available (8 "Premium slots" and 4 SSD Slots). Therefore, you'll be able to choose between storages of 300GB and 3250GB. If you don't manage to find something here, there is no place you will !
Choosing Seedbox.io : great idea !
Even though Seedbox.io is not on the first place of our podium right now, it is still one of our favorites. Indeed, all its offer is impressive be it for the choice of Seedboxes, the quality/price ratio, the client support and everything you can think of.
If you decide to choose Seedbox.io for your Seedbox, you'll definitely not be disappointed. As a matter of fact, it's one of the cheapest providers, with a 300GB Seedbox for only 5$/month. If you pay directly annual, it will be closer to 4$/month. In addition to that, you very often have discounts and promo codes in order to decrease even more the total amount of the bill.
The client support is also very satisfying. Indeed, even though there is no online chat (we really regret that), the ticket system is really efficient. We've never waited more than a few hours to get our answers…no matter the time of the day or the night. If you have any question, do really not hesitate to contact them. You can be sure that you'll have a very swift and efficient answer.
Right now, Seedbox.io is still not the best Seedbox provider but it is really getting closer and closer to it. If it implements a online chat and if it manages to decrease even more its prices (to get closer to Seedbox.fr), then, he might become the best Seedbox provider of our 2020 comparison and ranking.