With more thank 100.000 users in the world, DediSeedBox is really a reference on the market. Surprisingly enough, its offer is very simple and limited. On an other hand, this might be what makes its main strength. As a matter of fact, you won't be able to choose between 10 or 20 Seedboxes there. You only have 3 Seedboxes in order to make the decision process as easy as possible. You'll just have to choose between the 1TB, 1,5TB or 2TB Seedbox.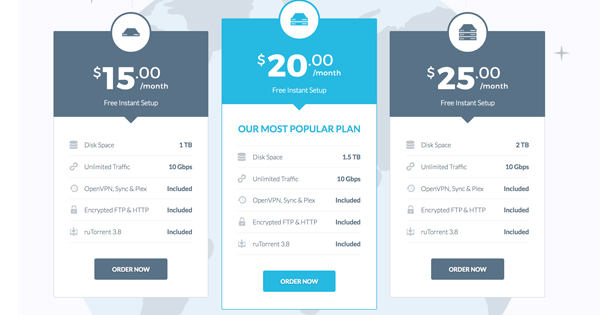 3 Seedboxes to choose, only !
Whereas a Seedbox provider like Seedbox.io has more than 12 Seedboxes, Seedbox.fr has 8, DediSeedBox only has 3. Is it a weakness ? We don't think so ! Indeed, as you can see in our DediSeedBox review, this definitely makes the decision process way easier.
Here, you'll just have to choose the storage space and everything is done. All the performances are the same, they all have a 10Gb/s connexion speed, they all have OpenVPN, Sync and Plex included, they all have FTP and HTTP encryption and, finally, ruTorrent 3.8 installed.
This really makes your choice easy and this is what we really like about this provider. There is absolutely nothing complicated about its offer. In the end, even beginners will very easily find what suit them best. The only question you'll need to ask to yourself is "What storage space do I need ?".
As a matter of fact, you have 3 solutions :
The 1TB for 15$ / month
The 1,5TB for 20$ / month
The 2TB for 25$ / month
Therefore, this is not perfect for beginners. Indeed, if you just want 100GB of storage, you'll be frustrated to pay for a 1TB Seedbox whereas you only need 1/10 of it… Yet, for people who need space, these are excellent solutions.
In fact, they are very cheap Seedboxes and high quality ones. The value for money is excellent and believe us, once you've tested them, you'll no longer want to leave for an other provider. Even though it is not as cheap as Seedbox.fr or Seedbox.io, it is still very attractive in terms of prices.
There are many reasons for which you should choose this provider. In fact, in addition to the very simple decision process and the very good Seedboxes, you'll have a very reachable and efficient client support. Even though there is no online chat, they answer very swiftly on the ticket system. Do not hesitate to contact them should you have any question.
And, of course, the very good quality/price ratio should definitely convince you to try a server with this Seedbox provider. For more information, we invite you to read our in-depth DediSeedBox review.