If your looking for a very very comprehensive Seedbox provider, Seedbox.io may definitely have the solution you need. Indeed, they really do offer a large choice of VPS, Seedboxes, Dedicated Servers,… in order to answer to all the demands they may have. In order to enable all these solutions to be easily implemented and used, a very good team is there to ensure a very good client support. Even though you only have one way to contact them, we are always very impressed by the speed of the answers.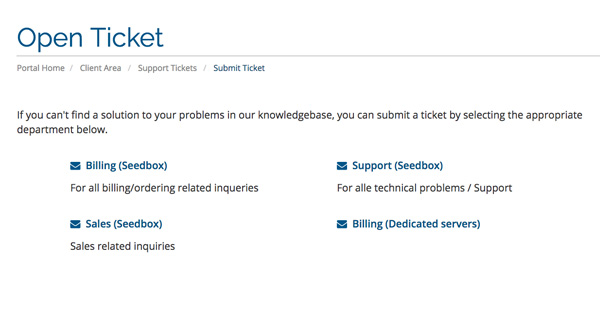 Contact them via the Ticket system
In order to contact the client support of Seedbox.io, you'll have to log in to you private interface and click on "Open Ticket". This will enable you to ask your question and, if needed, to add a picture or anything to explain your issue to the employees.
This is very important that you know how to contact the client support if ever you have an issue with your VPS, Seedbox, Dedicated Server,… or if you simply have a question to ask, regarding anything.
Unfortunately, there is no other way to join the client support. We would really have enjoyed to find an online chat or a hotline. Yet, with the ticket system, the answers are always insanely fast !
As we said in our Seedbox.io review, the support is available 24/7 and 365 days a year. Therefore, you really can contact them at any time, any days of the week.
Most of the time, you'll get an answer within a few minutes only if you put "normal" in "priority".
If you really need a very very swift answer, do not hesitate to put "urgent" in "priority", this will enable you to get your answer within 5 to 10 minutes maximum. The answers are always very precise and, normally, they'll directly fix your problem or answer to your question.
Discover Seedbox.io !
As you can see in our Seedbox.io review, you're able to test this seedbox provider during 14 days maximum. If you're not happy with the solution offered, or if you just want to change providers, you can ask for a refund. For this, just contact the client support and they take care of it very swiftly.
If there is one solution we can strongly recommend you with Seedbox.io, it is the Premium Solutions. Indeed, they offer a very good quality price ratio with big storages. If you want to be able to run Plex on your Seedbox, which is, according to us, very important, you'll have to go for a Plex Server which is slightly more expensive for each Go stored.
In any case, not matter the plan you take, you'll have an access very close to 99.99% and the 1Gb/s connection speed is really impressive. We almost managed to download a movie with an average speed of 115GB/s (on a 20Go movie).
Even though it is still far away from the 10Gb/s of Seedbox.fr, it is still very impressive if we compare with a "normal" internet connection.